Sid Waddell's top 20 quotes
With the sad passing of darts commentator Sid Waddell, MSN Sport remembers some of his best lines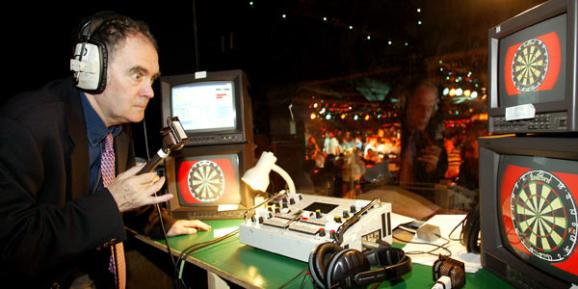 Sid Waddell dies aged 72
"There's only one word for that - magic darts!"
"Bristow reasons . . . Bristow quickens ... Aaah, Bristow."
"Jockey Wilson . . . What an athlete."
"When Alexander of Macedonia was 33, he cried salt tears because there were no more worlds to conquer..... Bristow's only 27."
"That was like throwing three pickled onions into a thimble!"
"He's about as predictable as a Wasp on speed"
"Look at the man go, it's like trying to stop a waterbuffalo with a pea-shooter"
"The atmosphere is so tense, if Elvis walked in with a portion of chips, you could hear the vinegar sizzle on them"
"Big Cliff Lazarenko's idea of exercise is sitting in a room with the windows open taking the lid off something cool and fizzy."
"It's like trying to pin down a kangaroo on a trampoline"
"Well as giraffes say, you don't get no leaves unless you stick your neck out"
"Under that heart of stone beat muscles of pure flint."
"He looks about as happy as a penguin in a microwave."
"That's like giving Dracula the keys to the blood bank"
"He is as slick as minestrone soup"
"This lad has more checkouts than Tescos."
"Even Hypotenuse would have trouble working out these angles"
"Darts players are probably a lot fitter than most footballers in overall body strength."
"Phil Taylor's got the consistency of a planet ... and he's in a darts orbit!"

"There's no one quicker than these two tungsten tossers..."
Are you sure you want to delete this comment?
Rob Jones

A fan of all things competitive, Rob plays, watches and shouts on the terraces of most sports.
Lee Harvey

Whether it's football, cricket, cycling, NFL, NBA or major league baseball, Lee will be there and won't be short of an opinion.
Where do you think Manchester United will finish in the league this season?
Thanks for being one of the first people to vote. Results will be available soon. Check for results
In the top four

2,987 votes

Between fifth and eighth

8,974 votes

Between eighth and twelfth

3,737 votes
Total Responses: 18,526
Not scientifically valid. Results are updated every minute.