Harry Redknapp is top value-for-money manager
Lee Jarvis looks at the results Premier League bosses got from their investments in players.
He may not have got the England job but Harry Redknapp made the most of his limited resources last season.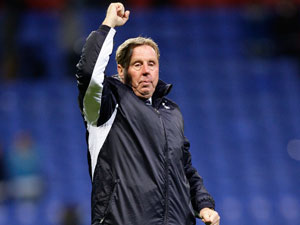 In terms of points accumulated per pound spent on transfers, the 65 year-old, came out as the top boss in the English top flight.
According to analysts at Deloitte, Redknapp spent the relatively small amount of £6.3 million, amassing 69 points with a 4th place finish, meaning that the Tottenham boss spent £91,304 per point gained last season.
The signing of Scott Parker was Redknapp's most expensive buy last term, but the hard working 31 year old proved to be a good investment and was key part of a successful season for the North London club. Other key players including Emmanuel Adebayor and Brad Friedel were secured without initial outlay.
Everton manager David Moyes was the next best value for money manager, weighing in with £116,071 spent for every point gained last year, helping Everton to a 7th place finish despite only spending £6.5 million on transfers.
The findings appear to substantiate claims that Manchester City and Roberto Mancini bought the Premier League title this year.  The Italian manager spent a massive £863,483 per point. Despite finishing as Champions they were a lowly 18th in the value for money league.
Brendan Rodgers showed how he attracted the interest of Liverpool by achieving a pounds per point score of £214,893, just in front of fellow newcomers Norwich who spent £251,063 per point.
Chelsea and Liverpool prop up the table with ratios of £1,193,750 and £1,128,846 respectively. No wonder both have new managers.

Obscene amounts of money forked out during the year of so called 'austerity'.
70% of the total income in the Premiership went on 'Managers' and 'Players' wages.
These so called sportsmen have no idea what the family man trying to feed his kids has to survive on.
Yet most of the clubs are in the red, operating on borrowed money, and despite liquidation can continue to participate in the game of soccer, when other business would be closed down.
Hardly a level playing field wouldn't you say?
Our National Game would not be where it is today if SKY SPORTS  had not funded the game with their TV rights etc. Prima dona players with no respect for the public, their supporters and the kids who idolise them. Sky's money is responsible.
I believe the Premiership could have been just as good without SKY's obscene money.
You only have to look at Formula One and other major sporting events bought by SKY's money, leaving the BBC Sports coverage out on a limb.
Murdock got his nose put out of joint isn't it time others were brought to book?
Are you sure you want to delete this comment?
Rob Jones

A fan of all things competitive, Rob plays, watches and shouts on the terraces of most sports.
Lee Harvey

Whether it's football, cricket, cycling, NFL, NBA or major league baseball, Lee will be there and won't be short of an opinion.
Who will finish highest in the Premier League?
Thanks for being one of the first people to vote. Results will be available soon. Check for results
Manchester United

694 votes
Total Responses: 4,165
Not scientifically valid. Results are updated every minute.