Liverpool unveil new home kit
First a new boss, now a new kit.
Liverpool FC have unveiled their new home strip for the 2012/13 Premier League season.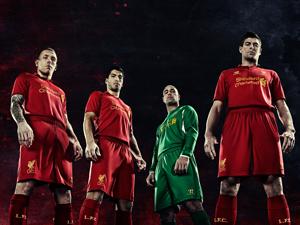 Kit manufacturer Warrior revealed the new kit, constructed by a hand-picked team of design and development experts at the company's football HQ in Wilmslow, is a celebration of the Anfield club's renowned heritage with inspiration drawn from Liverpool FC legends of old.
The inspiration for the kit was drawn from the 1964/65 version, worn under club legend Bill Shankly who believed the high-risk red gave players a physical and psychological edge over their opponents. The iconic amber yellow Liver Bird emblem has been re-introduced to the new kit, taking centre stage on the shirt as the club's crest.
The kit has been designed using War-Tech, a revolutionary apparel system engineered by Warrior. At the heart of War-Tech lies Scafé, an innovative, antimicrobial fabric made with coffee grounds. As well as being environmentally friendly, Scafé is fast drying, assists with odour control and provides UV protection.
LFC captain Steven Gerrard believes the new Warrior kit is one of the best in the club's history.
"Warrior has designed a kit that embodies everything that is great about Liverpool Football Club," said Gerrard. "I'm extremely happy with the reintroduction of the amber yellow Liver Bird crest and the stitching gives it that extra touch of quality. For fit, comfort and functionality, it's one of the best kits I've worn – the fans will love it."
Liverpool FC will wear the new-look home kit for the first time against Toronto FC on 21 July, during the club's summer tour of North America.
The kit will be available to purchase from www.warriorfootball.​com
For more football news and stats follow msnsportlee on Twitter

And so the money mill grinds inexorably on. How obscene. Pity the poor parents, and the even poorer ones, who face heartbreaking decisions as whether or not they can afford yet another similar-to-the-last-​one re-brand.
And the same applies to the away strip too.
Bloody awful money grubbing  antics.
Are you sure you want to delete this comment?
Rob Jones

A fan of all things competitive, Rob plays, watches and shouts on the terraces of most sports.
Lee Harvey

Whether it's football, cricket, cycling, NFL, NBA or major league baseball, Lee will be there and won't be short of an opinion.
Who will win on Sunday?
Thanks for being one of the first people to vote. Results will be available soon. Check for results
Total Responses: 1,171
Not scientifically valid. Results are updated every minute.