Hodgson makes first gaffe (and it's not his selection)
Defending the selection of Stewart Downing and Andy Carroll is never going to be easy. But the relative merit of footballers is a subjective debate which can only be settled with hindsight and not even always then.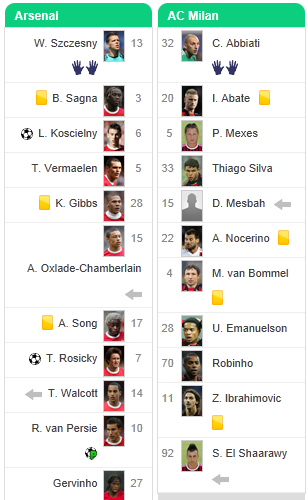 However teamsheets from past games are not open to the same kind of discussion and Roy Hodgson handed a major victory to the #Hodgsonout campaign in explaining why he picked uncapped Alex Oxlade-Chamberlain.
The Arsenal winger, he said, had impressed against Milan at the Emirates. Fair enough if he had stopped there, but hapless Hodgson continued:
"I was there and saw how well he dealt with Pirlo and Ambrosini."
The only problem is, neither played, as the screenshot of our coverage shows.
So there's the first definitive boob of the new manager's career. What will be the next one? Well he could always try fielding nine of the 11 players who were completely and utterly humiliated by Germany in Bloemfontein.
Are you sure you want to delete this comment?
Rob Jones

A fan of all things competitive, Rob plays, watches and shouts on the terraces of most sports.
Lee Harvey

Whether it's football, cricket, cycling, NFL, NBA or major league baseball, Lee will be there and won't be short of an opinion.
Who will win the Champions League?
Thanks for being one of the first people to vote. Results will be available soon. Check for results
Total Responses: 614
Not scientifically valid. Results are updated every minute.