England face the most difficult conditions in world cricket
After a disastrous showing against Pakistan where we were crushed 3-0, England now move onto the most difficult conditions in world cricket to take on Sri Lanka where the heat and humidity are almost unbearable - especially in Colombo.
We all know England will have to play spin on the slow, low pitches a lot better than we did against Pakistan where our lack of technique was highlighted in the three tests.
It will be a strange series as there are only two tests: the first one being at the port town of Galle where there's been only one draw in the last six tests. The second test will be held in Colombo where Sri Lanka have a great record.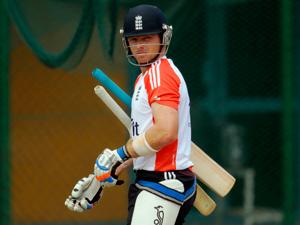 England need to be ready and prepared and, with two wins since they arrived in the country, it looks like they are. All the batsmen have scored runs, except Ian Bell who once again just can't get started which is a little concern.
England's last two tours to Sri Lanka have gone against them, losing their last two series 1-0. Obviously, a challenge awaits England if they want to remain the best test side in the world.
After losing Murali, Sri Lanka are not the force they once were but they are an ever-improving side. They have just won a test in South Africa and got to the final of the tri series in Australia knocking out India along the way.
Their strength lies in their batting where they have high quality players with experience in Kumar Sangakarra, Tillakaratne Dilshan and Mahela Jayawardene, who is once again named captain for a series against England.
Sri Lanka's seam attack shouldn't trouble England's batting too much. The hosts will rely heavily the two spinners they've selected - Sujay Randiv and Rangana Herath. Randiv has been recalled after taking 37 wickets for his club in five first-class domestic matches. Herath is the customary left arm spinner teams love to use against England's batsmen, especially Kevin Pietersen.
Surprisingly Sri Lanka have left out their only mystery bowler Ajantha Mendis due to poor form. I reckon he could have troubled the techniques of some of England's batsmen.
Preparing for a tour of Sri Lanka takes a lot of dedication to fitness, more so than anywhere else in the world due to the heat and humidity. When we toured there in 2001 and won, it was the peak of my fitness and definitely the fittest team I was ever involved in.
I prepared by spending lots of time in a sauna fully clothed doing press-ups and sit-ups, getting used to the effects it had on my body and I'm sure with the success I had it definitely worked.
I remember the day we arrived. We all had to do the customary bleep test and get to level 12.2 to be available for selection. We did it at lunchtime in heat of 120 degrees on a tennis court with no shade. Everyone passed which was unreal as there's always one or two that fail every tour.
Looking back at that bleep test, I can see what the manager/coach was doing to us. He was testing us mentally and physically for what we had ahead.
What's it like playing a test match in Sri Lanka? For a start, you seem to be drinking water non-stop to try and replace the fluids you lose during the heat of day. You get weighed in when you get to the ground and your weight is monitored after each session as you can lose up to 4kg in a single day, which you need to replace.
Whether you're batting, bowling or fielding, it takes great concentration. When I bowled in Sri Lanka, we came up with a plan in the hottest part of the day of bowling one over spells so we were able to give our all for longer.
The new ball is important. It will swing early on and offer chances to make early in-roads. As the day goes on, you use clever variations of speed to preserve your strength.
England's two spinners will be vital, bowling in tandem, hopefully creating pressure and taking wickets when they can before another new ball becomes available.
I've a strong feeling England will have learned from their mistakes against Pakistan and claim the series. Alastair Cook should once again score heavily - in 15 innings against Sri Lanka he averages 60.21.
Good luck, boys. Be prepared for a hard few weeks with plenty to drink and plenty of ice baths. Win the series then enjoy the victory as England do best!
Are you sure you want to delete this comment?
Darren Gough

Former England strike bowler and Yorkshire captain Goughie talks all things cricket and occasionally shows off his knowledge of other sports...
Who will win on Sunday?
Thanks for being one of the first people to vote. Results will be available soon. Check for results
Total Responses: 637
Not scientifically valid. Results are updated every minute.