What happened to Australia's new breed?
When will the real Australia stand up? With one ODI remaining, they're three-nil down to England - with one match cancelled thanks to our beautiful British weather at Edgbaston.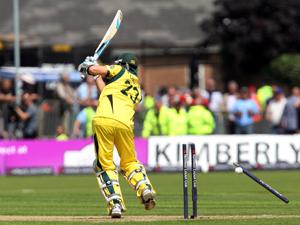 As well as being a money-spinning spectacle for the ECB, this ODI series was supposed to be a showcase for Australia's new breed of cricketer.
Well, these young Aussies haven't shone so far and certainly haven't done anything to increase my appetite for the Ashes series next year.
People have talked about England seeing too much of the old enemy and that it will dilute the next Ashes series, but I thought it was important we had a look at some of Australia's new faces as we've been told they were almost back to their best and would challenge us in all forms of the game.
What a serious wake-up call for Australia's coach and media! All I've seen so far has been mediocre cricket from Australia.
It's back to the drawing board as the team they've put out against England isn't good enough or just not tough enough - a phrase often used to describe the England team of the 90s which I represented who were battered time and time again. After a while that criticism started to have an effect on certain players within our side.
Shane Watson, an experienced quality cricketer, said only last week that England's long batting tail was a big weakness which Australia were looking to exploit. Well, Mr Watson, your bowling attack hasn't got through to Tim Bresnan, England's number seven, once in the entire series!
Maybe, come the final one-dayer at Old Trafford, you might win a dead rubber just like England used to in the good old days – something your media used to remind us of on a daily basis!
Australia's weakness has been in the batting department. They no longer have players who can bat long and dominate games.
David Warner on home soil or a slow pitch in India could really hurt you but in English conditions against our attack he doesn't offer the same threat.
For me, George Bailey looks a player trying to prove his worth in the team – he lacks confidence and gives off those vibes. Steve Smith is a Michael Clarke-clone but he's just not in the same class as his skipper and is probably batting two places too high.
One positive for the Aussies is their bowling unit. Although they haven't got through England's top order yet, they will have gained useful experience in English conditions and shown glimpses of class that could trouble our batsman in future contests.
One problem for them, something that troubled England in Ashes series of old, is that they still haven't got a quality spinner, someone in the same class as Graeme Swann. On the evidence of this current one day series, this is a huge dilemma that the Aussies need to address urgently.
Follow me on Twitter @DGoughie
More on MSN Sport
I think English media is typically trying to be bit over confident n inserting an extra pressure on that team who was properly battered by pakistan in UAE in test games. it is the same old rhythm that English players are too good at their soil but wen it comes to away games their credibility is still
questionable.Aussies​
are definitely struggling and need some quick reforms but for sure next ashes going to be a healthy contest. I think we should give guys some time to reorganise their mindset for test contest. God save the Queen

We got battered in the tests in the UAE but destroyed them in the one dayers 4-0 I think?! So this team can definitely play abroad which is highlighted by the great ashes win in australia. Its true we still struggle with spinners in sub continent conditions but a 1-1 draw away in Sri Lanka showed signs of progress. This England unit for One dayers and Tests is packed full of world class players something which just cant be said of the Aussies at the moment. To have to pick from Anderson, Broad, Bresnan, Finn and Tremlett is an embarrassment of riches plus Monty Panesar would undoubtedly be in most Test sides apart from ours. Hope the weather stays off long enough for us to whitewash the aussies before we take on the South Africans in what will be a great series im sure.
Are you sure you want to delete this comment?
Darren Gough

Former England strike bowler and Yorkshire captain Goughie talks all things cricket and occasionally shows off his knowledge of other sports...
Who will win the Champions League?
Thanks for being one of the first people to vote. Results will be available soon. Check for results
Total Responses: 1,540
Not scientifically valid. Results are updated every minute.