Scottish Ladies Open taught me a thing or two about golf
After taking part in the Aberdeen Asset Management Ladies Scottish Open I've come to the conclusion womens sport deserves much more credit than it gets. I want to be one of the first to say how surprised was by the pure talent and dedication required to play on the Ladies European tour where their reward is minimal compared with themassive amount of effort involved.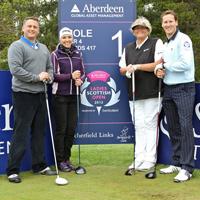 I was invited to play in the Pro AM open over three days at the magnificent Archerfield Links in North Berwick, Scotland I partnered the legend that is Laura Davies CBE (should be Dame) and after two rounds we were on top of the leaderboard on -16. The other two players in our fourkarr ball were top pro Carin Koch from Sweden and twinkle toes himself Brendon Cole (he had an absolute 'mare by the way and didn't make the cut).
The final round came along and everything was perfect: the course, the Scottish weather, I was hitting my new Orka driver on the range like a dream but once I got out there knowing I was leading things didn't quite go as planned: I couldn't hit a fairway, 4 foot puts felt like 10 foot and we ended up finishing 6th in the pairs event.
What an experience though to watch at close quarters the talent of these ladies. Their swings are to perfection as they can't rely on power like the men; they have a great tempo which leads them to hit the ball a lot further than you would imagine from their stature; and the accuracy into the green is something to behold.
I'll never forget those three days partnering Laura who's a huge Liverpool fan - which she didn't shut up about for the whole time. She couldn't wait to rush off soon as she came off the 18 th on the final round to catch the Cup final.

Well done to Carly Booth the local girl and Aberdeen Asset ambassador who claimed her maiden European tour win and in achieving that was also the youngest girl to have won the Scottish Open.
Finally well done to WSM for organizing and inviting me to such a wonderful event where I managed to take part and learn and admire from some seriously talented and dedicated ladies .

Darren Gough

Former England strike bowler and Yorkshire captain Goughie talks all things cricket and occasionally shows off his knowledge of other sports...
Who will finish highest in the Premier League?
Thanks for being one of the first people to vote. Results will be available soon. Check for results
Manchester United

62 votes
Total Responses: 428
Not scientifically valid. Results are updated every minute.