Win paves way for a glorious English summer
Let's be honest, England have played five Test matches over the winter, they've bowled well in four and batted well in one – and the one they batted well in, they won.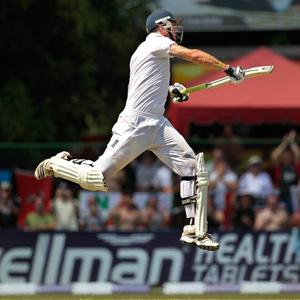 And when you talk about match-winning players, for all criticism he gets and it annoys me that he does get it, this is why you need Kevin Pietersen in the side. The way he played he just took the game away from Sri Lanka in one session. And what was that nonsense about the bowlers complaining about his switch hitting. I think it's a brilliant shot to watch but I wouldn't mind if I were an off-spinner and a right-handed batsman started getting bored and trying to play left handed. In fact I'd love it, he's making it hard for himself and any bowler should want to bowl against a batsman who takes risks like that.
As for the other batsmen, Cook's obviously done his job. Trott's played well and steadied the ship but that doesn't win you games - that's what I'm saying. He'll draw you games but Pietersen has got 29 hundreds - more than Graham Gooch who everyone considers a master of both forms of the game.
Bell didn't get much of a go of it in Sri Lanka but is likely to keep his place. It's the case that a batsman can go five or six matches without a score then he gets a 50 and earns five or six more. A bowler goes two games without a game and that's the end of his career; batsmen get more chances.
And Strauss too will feel more comfortable now that No 1 position has been secured for a little longer, it gives him some breathing space to come back in home conditions and get some runs under his belt.
Among the bowlers, you'd expect Finn or Bresnan to make way for Broad, but Bresnan's got that fantastic record of not losing - would you keep him in for that?
One bowler who is unlikely to feature this summer now is Monty Panesar, unless Swann picks up an injury. Swanny's all-round ability: his batting, his slip fielding give him the edge but at one point it looked like his position was going to come under serious threat.
Monty will get another chance next winter in India and what a series that is shaping up to be. Duncan Fletcher's had to go back to the drawing board both in the batting and bowling departments, bring in some discipline, improve fitness levels but by the end of the year his team might well be ready to face up to England. I'm not usually a big one for following the team abroad, I've done enough touring in my time but I quite fancy heading out for that.
Of course in the nearer future, we have the West Indies, who though they will be stronger than most people expect, should give England a good chance of a whitewash. Then South Africa, who will want to grab the No 1 slot. I don't think they are strong enough at the moment. They haven't got a real wicket-taking spinner or the same depth that England have - our second-string bowling attack could start a Test match.
So I think England will win that series too, even though they still lack a real quick bowler in the mould of Flintoff or Harmison. One player who could turn the tables will be Philander. He bowls a disciplined line, puts the seam in the right place and creates pressure. He's already acclimatising on the county circuit and picking up wickets so in combination with the strike power of Steyn could cause real problems. But England have shown they're more comfortable with pace than quality spin and the batsmen we have should be able to cope.
Are you sure you want to delete this comment?
Darren Gough

Former England strike bowler and Yorkshire captain Goughie talks all things cricket and occasionally shows off his knowledge of other sports...
Who will finish highest in the Premier League?
Thanks for being one of the first people to vote. Results will be available soon. Check for results
Manchester United

37 votes
Total Responses: 257
Not scientifically valid. Results are updated every minute.