England will play like boxers: jab, jab, strike
This is my second trip to South Africa in five weeks: once with the Highlanders and now with new look England. In approach and personnel, there are some very key differences and yet the central messages and approaches in preparation and training are the same. Things often are when dealing with the South Africans.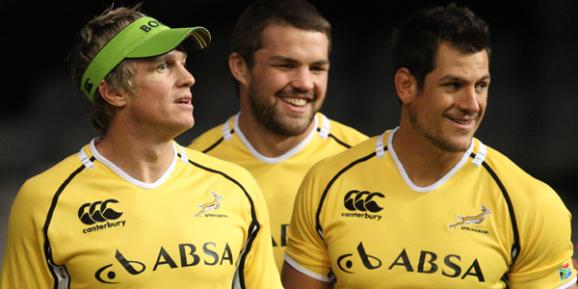 It's one of the biggest, if not the biggest, physical challenges to play South African teams. The Springboks themselves are simply the top of the tree in that regard. And this facet is where all training and preparation has to start - dealing with the physical threat. If you try to turn it into an attritional battle, you will usually come off second best; but if you find yourself intimidated by it, and don't face up to the challenge, the result will be the same.

You have to meet fire with fire, but on your terms not theirs, with a sort of boxer's mentality. You need to jab, jab and then strike.  If you run direct all the time you are playing into their hands.

The one thing you know about South African teams is they are going to be hard and direct and with that comes a certain amount of predictability. However, that being said, they do it extremely well and command respected. Areas that have to be addressed are set piece drives: they tend to go for a maul more times than they ever go off the top. Give them a hint of momentum in this area and you're in for a long day in the office.  With only four days preparation I can't see them trying to reinvent their gameplan for the first Test at least - they will focus on what they do best.

"I am expecting to see a simple game plan and relying heavily on an aggressive defence"
The second area is their 'train' runners: this is where they form up in either groups of two or three, with one central ball carrier and the other two players holding the central man's shirt. They then effectively use the ball carrier as a battering ram to get good gain line. It takes a brave man to aim at the knees of the ball carrier, with 300kg of prime SA beef coming at you. This is, however, exactly what needs to be done to halt the Boks' impressive power game. If you go high, you go backwards. We will need to hunt in pairs.
The kicking battle is also another area of focus because South African teams often rely on a set piece game, if we kick away the ball we will have to expect it returned high with interest to pin us back, or into touch to bring their highly drilled lineout into contention. They have one of the world's best kick-chasers in Bryan Habana, so positioning and support is going to be key.  You need to put their back three under pressure by putting kicks up to compete and kicking cleverly into space.

If any of us needed a reminder of how strong rugby is down here right now, we need only looking at the top of the Super 15 table. The Bulls and Stormers are way up there with the Sharks close behind. They all play fairly similarly with the strong central themes I have discussed. So I am expecting to see a simple game plan and relying heavily on an aggressive defence. Their focus will no doubt be to hold up attacking players in the tackle, any runners who come too high or too front-on will get caught by Jean de Villiers and Willem Alberts, thus allowing the defence to fan out and cover the field. They haven't chosen an out and out ball stealer so will look to get the ball through forced errors and big tackles.
England are of course right up for this kind of challenge, with good physicality across the board. The centre pairing of Brad and Manu offer a strong defence with the ability to make the gain line in attack against any side. The aim will be to deal with the physical threat and then impose our game plan on the South Africans. High tempo will be the order of the day, with the aim to move the big opposition players around the park, thus creating some holes for the likes of Foden and Ashton.
The forwards have the biggest challenge in trying to win the set piece battle, carrying on their good work from the 6 Nations and the Ireland game in particular.
The mood in the camp is very excited readied for the challenge that lays a head. The team comes first, so everyone is leaving no stone unturned in the pursuit of a result this weekend.
James Haskell

England forward James Haskell talks all things rugby, including the rugby world cup in an exclusive weekly MSN Sport column.
JamesHaskell.com
Who will win on Sunday?
Thanks for being one of the first people to vote. Results will be available soon. Check for results
Total Responses: 670
Not scientifically valid. Results are updated every minute.