The Scrum: pain, pressure and civil war
On The Scrum. Well not so much the scrum, but the front row.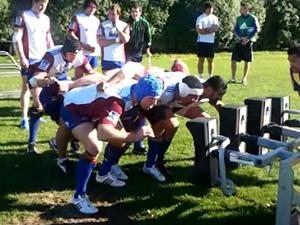 From what I can see it's a dark, dark place that no one in their right mind would ever want to visit. It's a space occupied by big men, with thick necks who operate in a game within in a game.
Referees say they know what's going on and pretend to ref it, but in that dark enclave terrible and mysterious things happen . I have learnt very quickly never to suggest that a scrum is just about a bloke pushing really hard against another bloke. Props and scrum coaches don't react well to that simplification, and would have you watching hours of footage of different scrums to prove the point.  Or under take a new unique approach that Kees Meeuws the Highlanders' scrum coach has adopted.  More about that later...

The scrum in the modern game is becoming more and more of a match decider.  Not only do dominant teams get front foot ball, but also often the favour of the referee's whistle.  (And if you can't utilise that good front foot ball then you are stuffed anyway.)
There is nothing worse than defending all the time, forcing the opposition into a mistake and then getting smashed at the scum or, worse, penalised. All you have to do is watch the Heineken Cup  and Super 15 to see how important this area is. Internationally teams like England have had great success in the scrum, which when other areas haven't fired, has allowed them nevertheless a form of dominance over the opposition and kept them in the game.

There is a constant, little-known, civil war that rages amongst most forward packs across the world. It's the front row v the back three, ie the no 8 and flankers. The subject of the war is the length of time that you push and remain part of the scrum. In simple terms, the  props want you there for ages and insist that should be your main and only focus; on the other hand, the backrows argue they have to worry about getting to the breakdown, or their next job in defence, and need to 'meerkat' (stay bound but keep their head up, looking to see when the ball comes out and what move is being done).
Finding the happy medium is the job of the forwards coach, but if he is an ex-prop then the backrow get it in their ear. If we miss a tackle, it's our fault, if a prop gets smashed in a scrum then the backrow weren't pushing enough. (I am possibly a little biased, being a flanker).
As mentioned at the start of this blog Kees Meeuws has decided that talk is cheap and actions speak louder than words. So during training last week a ceasefire was declared between the backrow and the front three and both sides swapped places. I thought the coach was joking to start with, but quickly realised as we were shown to the scrum machine that he was in fact deadly serious.
I have to say it was pretty interesting experiencing, and not quite as bad as I thought it was going to be. Maybe if I fancy a position change, tighthead prop is a good start.
You can watch a short video of my experience in the scrum here
We packed down in threes to start with, and then built up to a full scrum.  I do have a newfound respect for my  front row teammates, as squeezing your head into a tiny hole and then having five other men crush you against a pretty immovable scrummaging sled is not nice. Luckily the experiment stopped at just the machine and didn't go into live scrums. I fear I might have been snapped in half otherwise. 
But of course, my new experience notwithstanding, I will continue to argue that there is more to life and rugby than scrumming.
Are you sure you want to delete this comment?
James Haskell

England forward James Haskell talks all things rugby, including the rugby world cup in an exclusive weekly MSN Sport column.
JamesHaskell.com
Who will win on Sunday?
Thanks for being one of the first people to vote. Results will be available soon. Check for results
Total Responses: 723
Not scientifically valid. Results are updated every minute.