'I said I was sick of losing to southern hemisphere teams'
Before the game on Saturday I felt compelled to speak to the guys in the huddle just before the anthems. I don't know whether it was the atmosphere or the fact I was overcome with emotion to be out on the field in white again. I told them that you never know when your last opportunity to play for your country might be; I had experienced that set of thoughts first-hand, having been out the mix for a while, and seen wholesale change. I said I was sick of not beating southern hemisphere sides, and losing in the white shirt.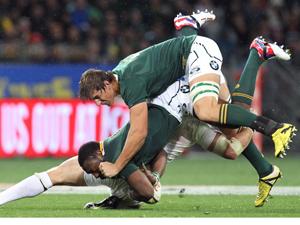 Today was the day we could make a difference and start things off as we meant to continue. Thinking like this, narrows your focus and hopefully leads to a performance at the absolute top of your ability. A lot of the talk at the moment is about playing for that white shirt, and the fact you only ever have it for a very short time.
Stuart has really highlighted that culture, which I've heard all about from some of my All Blacks teammates, who, like us, each have a unique shirt number that will always be theirs and no one else's. The Kiwis are constantly reminded that they have a very short life expectancy in the shirt and every moment is special. Rest and you will be overtaken. We have been told the same. This has a very positive effect on a team culture, and creates a very competitive environment. It's simple. You're just a custodian of the jersey, so do it justice as those who have gone before have.
For me it was fantastic to go out in front of a buzzing crowd in the impressive Port Elizabeth stadium and it was so important that we got a result against such a strong Springbok team.
We accept that we weren't quite good enough in attack which is why we didn't get the win we really wanted. But the learning curve from the first Test - where we started well, but dropped off for 30 minutes in the second half - through to the second, where it was just one 20-minute spell that turned the game, was a sign of how fast this team can improve. If we can up our attacking ability and really test teams, then the talent we have to finish is there.
In defence, we lived with the physicality of the most physical rugby team on the planet and in the end had a chance to win it.
Yes, as a team we were disappointed to give away so many penalties, particularly around the breakdown. There is always going to be touch-and-go calls, but anything that looks really wrong will get penalised. Personally, having had a few on-field discipline issues over the last few weeks, I was very conscious of not giving cheap penalties away.
There was a very brief moment when I assumed the role of captain, albeit unofficially
Watching and talking to the likes of Richie McCaw, David Pocock, about how they avoid more negatives than positives from the breakdown battle, you quickly realise that the best players learn from the referees very quickly during the game, and never make the same mistake twice, which I think is advice every forward needs to follow. If something isn't working, then try something else.
Of course, after every game – especially after a draw – there are things you look at and think you could have done better. I'm still kicking myself about a handling error. But when you look in the round there were a lot of strong performances from guys like Alex Goode and Danny Care. I thought Alex was especially good under the high ball, and gave us a lot of security at the back.
There was a very brief moment when I assumed the role of captain, albeit unofficially, and by all accounts completely unnoticed by all, when Dylan went off. My one and only executive decision was to call a scrum instead of a line-out after a not straight throw from the Boks. Honestly it's probably the first and last time.
After getting back among the England team I'm now really looking forward to coming back to Wasps and getting to test myself week-in, week-out against some of the players who have risen through the ranks. Next season at least six of the teams will field back-row, including someone who has worn the red rose in 2012. Who knows if I'll get another opportunity at international level, but that's exactly the kind of position we need to be in to be able to travel south next time and come back with a series win.
Ps: thank God penalty shootouts don't get much of an airing in rugby. I have no idea what I'd do if someone asked me to take a kick.
He talks the talk but unfortunately doesn't walk the walk.  In fact he has talked himself out of the England elite squad.  As for talking to McCaw and Pocock on how to avoid negatives then its quite simple.  Exploit all offside laws, lay on the wrong side of the scrum and interfere with the opposition without getting penalised.  Which for me should be the hardest bit of it all.  But they do it with ease and amazingly get away with it.  The French showed the world how to expose the All Blacks but nobody told the officials on the day.  Enough said.
Are you sure you want to delete this comment?
James Haskell

England forward James Haskell talks all things rugby, including the rugby world cup in an exclusive weekly MSN Sport column.
JamesHaskell.com
Who will finish highest in the Premier League?
Thanks for being one of the first people to vote. Results will be available soon. Check for results
Manchester United

694 votes
Total Responses: 4,164
Not scientifically valid. Results are updated every minute.