Everything's going right for Hodgson and England
If you can't be good, be lucky. England weren't great but they got the job done in a performance full of heart, spirit and bodies on the line. They closed down when they had to, they won the headers they needed too, made the clearances and of course when a defender was needed on the line, John Terry was there (albeit a moment too late).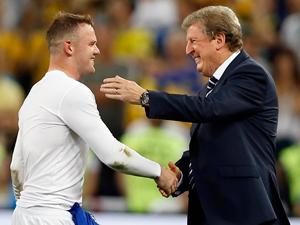 Undeniably, Ukraine were unlucky. But England were dogged and they've finished top of their group. Morale will be high now because they've met every challenge full on. They'll also be feeling that luck is with them, maybe like Chelsea did in the Champions League after the penalty save. Sometimes as a player you just think 'things are going right' and it can be a self-fulfilling prophecy.
For me, the reaction of Roy Hodgson said it all after the game. He was smiling, applauding the fans and he looked absolutely jubilant. The way his big calls have worked out, the way he's got things right and had that luck that he was always going to need, mean that he will be feeling settled in the job and has the fans behind him. And a confident manager equals a confident team.
So England are in good shape - but better still they will be facing Italy and not Spain. Obviously I got a good look at both teams in their matches against Ireland and I have to say, Spain looked very, very good. Italy on the other hand were vulnerable. They're dangerous going forward but Pirlo in midfield on occasions looked a bit off the pace last night and Chiellini, their best defender, is out injured.
England can win and make the semis.
And I guess Hodgson won't feel the need to change much. If he does it will be out wide where Young has been really disappointing, for reasons that I can't fathom. Milner looked a little tired today as well, but he always offers good protection to Glen Johnson who can sometimes get out of position.
Rooney
As for Wayne Rooney, he scored. Another one of Roy's decisions that paid off. But he certainly did look rusty, and if I was going to criticise anything the manager has done it would be that he didn't give the striker enough time in the two pre-tournament friendlies. But with 85 minutes game time, and a goal, behind him he's only going to get better.
Absurd
As for the goal that wasn't, what can I say. It is getting ridiculous. We were told that the officials behind the goal would get everything right but I have only noticed one decision that was clearly wrong. Watching it on TV we saw straight away that it was a goal, even from a poor angle and a long way away. But right next to it, with nothing to do except rule on that, there's a fully kitted-out official with a magic wand to stop the game and he doesn't wave it. Absurd.
Are you sure you want to delete this comment?
Matt Holland

Former Republic of Ireland midfielder Matt Holland talks all things football from the Premier League to the grass roots.
Who will finish highest in the Premier League?
Thanks for being one of the first people to vote. Results will be available soon. Check for results
Manchester United

652 votes
Total Responses: 3,977
Not scientifically valid. Results are updated every minute.