Off-colour Spain still too good for most
Spain were disappointing tonight, but they do say it is the mark of a good team that they can win without playing at their best.
I think that Portugal probably edged the first half - they looked lively, pressured Spain and broke superbly. Spain were frustrating typified by the non-existant Negredo.
The second half was more even, but as we got into extra time, Portugal seemed to make a conscious decision to drop deeper and settle for penalties.
Spain probably just edged the match for me, but I think the likes of Andres Iniesta and Xavi could have done more to influence the game. Jesus Navas and Pedro came off the bench to great effect - their pace and direct running made all the difference as Portugal tired.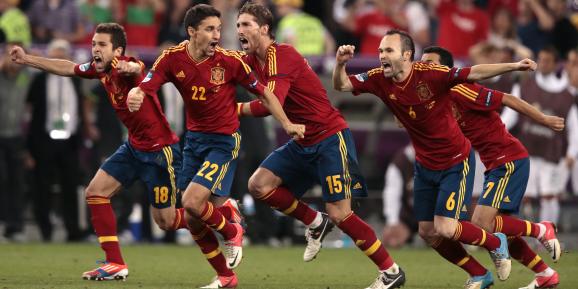 Spain celebrate their progress to another final - despite not being at their brilliant best
It's extremely tiring to play without the ball for so long and you could see the Portuguese players were shattered going into the extra 30 minutes. Patricio was excellent in the Portugal goal with two fantastic stops, but Iniesta, in particular, should have done more with a great chance in extra time.
Spain are just an incredible team and have now gone nine knockout matches without conceding a goal. They were able to bring great quality off the bench, and leave so much on there, like Torres, Llorente and Mata, who hasn't played a minute of their campaign so far.
I don't think that Spain have looked at their best throughout this tournament, but they've reached yet another final, and for that, you have to give them a huge amount of credit.

Im sorry Matt but without Ronaldo, Portugal were not doing much to really put Spain under any pressure - there were one or two glimmers from other Portuguese players but nothing of significance.
The only sense of urgency Spain had was in the Extra Time and for the World and European Champions, that simply isnt good enough.
Yes, Spain are an incredible team with some incredible players but lets assume that Germany beat Italy tonight (and who will argue with me on that?) and make it to the final.....
....If Spain play like they did tonight against Germany then Schweinsteiger and Co will rip them apart!! Simple as that!!
Are you sure you want to delete this comment?
Matt Holland

Former Republic of Ireland midfielder Matt Holland talks all things football from the Premier League to the grass roots.
Who will finish highest in the Premier League?
Thanks for being one of the first people to vote. Results will be available soon. Check for results
Manchester United

694 votes
Total Responses: 4,164
Not scientifically valid. Results are updated every minute.