What a draw for Ireland!
Estonia and at home second-leg is the best thing we could've hoped for.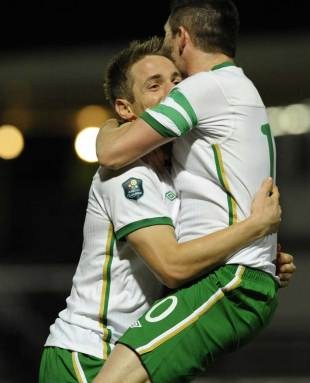 What goes around comes around; a saying that you could easily apply to the Republic of Ireland this week. A couple of years ago the French bundled us out of a World Cup play-off after a blatant handball by Thierry Henry. However, on this occasion luck was on our side – no question about it. The decision to send off the Armenian goalkeeper Roman Berezovsky for handball outside the area was wrong on every count.

The Euro 2012 play-off draw
In the build up to the red card Simon Cox had already handled the ball, which the referee didn't see, and then he sent the goalkeeper off when the ball clearly hit his chest. We were further aided by Valeri Aleksanyans' comedy own goal which will surely feature on a 'What happened next?' clip. Not a vintage performance, but a win that saw us into the play-offs.
And what a draw! Being seeded was a bonus and then to pull Estonia out of the hat with the home leg second was probably the best outcome we could have hoped for. Not that they should be taken lightly. They are an unpredictable team capable of an upset. They beat Slovenia and Serbia to second spot in their group and beat the latter 3-1 away in qualifying which shows their credentials but also it should be said went to the Faroe Islands and lost 2-0. We should be confident in our ability to get through to next summer's tournament.
There are still question marks over the future of Giovanni Trappatoni. His contract expires at the end of this campaign and there has been no offer of a new deal as yet. Why? Well the FAI are not exactly flush with money and he doesn't come cheap. There are also one or two murmurs of discontent from the fans with the style of play.
He is very pragmatic and rarely wavers from a 4-4-2 formation where the two full-backs and the two central midfielders are restricted in their forward play. It can be negative at times but it has brought results and before the goal Armenia scored we were close to 14 hours without conceding. He has lost just 8 of 40 games in charge and if we progress to Poland/Ukraine next year I expect that FAI will be asking him to extend his contract.
Matt
Are you sure you want to delete this comment?
Matt Holland

Former Republic of Ireland midfielder Matt Holland talks all things football from the Premier League to the grass roots.
Who will win the Champions League?
Thanks for being one of the first people to vote. Results will be available soon. Check for results
Total Responses: 1,540
Not scientifically valid. Results are updated every minute.