A thoroughly unHodgson-like win
What an unbelievable game. England showed their vulnerabilities but also showed that manager might not be quite as one-track and predictable as many had thought.
England Sweden resembled nothing more than a Premier League game, which given the level of Premier League experience on show was perhaps not surprising. But it was very unHodgson-like.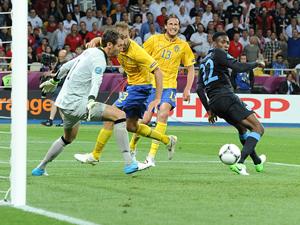 Exciting yes. Tournament winning no. England have already shown that they are able to frustrate teams technically more skilful than them and take home a result. Today they showed that they are less effective trying to take the game to the opposition.
It will be tremendously heartening for England fans to see their team not only score three goals but also come back after throwing away a lead that seemed so comfortable in the first half. I don't remember ever seeing them bounce back from a similar situation. But the truth is that the explanation for the see-saw game lies in a worrying trait that Steven Gerrard and his team-mates seem to have picked up in recent matches.
When they go a goal up, rather than push for a second, they tend to drift further and further back. Combined with their habit of conceding possession, this leaves them facing waves of attacks and allowing opposition full-backs to forget about defensive duties and charge forward. We saw it against France and again today, albeit not until the second half. In many ways, going 2-1 down was a blessing because it galvanised the players to push forward, and led to the introduction of the hugely impressive Theo Walcott.
Walcott has the ability to change games with his pace, especially against tired defences - which is why I don't think Hodgson will start with him next week. There will be other changes though, with Rooney almost certain to come into the team. Ashley Young, who I felt coming into the tournament could be one of the stars, looks vulnerable because he's been disappointing in both games. Danny Welbeck, despite scoring, didn't look half the player he was against France. But I think it will be Andy Carroll who finds himself back on the bench leaving the club strike partnership of Welbeck and Rooney together.
And don't forget, while a draw will take England through, they're likely to need a win by two clear goals to beat France to the top of the group and avoid a likely quarter-final match-up with Spain. So despite its limitations we could well see all-out-attack England again on Tuesday. That'll be one to watch.
Are you sure you want to delete this comment?
Matt Holland

Former Republic of Ireland midfielder Matt Holland talks all things football from the Premier League to the grass roots.
Who will finish highest in the Premier League?
Thanks for being one of the first people to vote. Results will be available soon. Check for results
Manchester United

687 votes
Total Responses: 4,142
Not scientifically valid. Results are updated every minute.