No one will take Mexico for granted again
The Brazilian team we saw today will make up the nucleus of the side which will challenge for the World Cup in Rio 2014. And if you asked me now if they could win it I'd say no.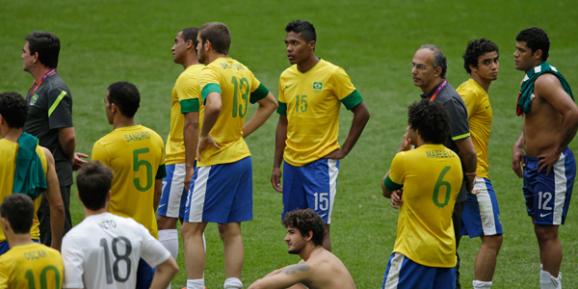 They have hugely talented individuals, but when you put them up against the benchmark of the modern game, Spain, they fall so far short.
Today they were out-worked, out-muscled and in many ways out-played by a committed Mexico team who, individually, would have struggled to get into the Brazilian first XI.
In Marcelo and Rafael, Mano Menezes has two fullbacks who try to emulate Cafu and Roberto Carlos but aren't quite as good. You see them bombing up the pitch like two wingers, taking chances when one of them needs to stay back.
Neymar is one of the world's best players but didn't manage to influence the biggest game of his career in the way that the true greats can.
Chelsea-bound Oscar looked a little lightweight upfront, though he is still very young with good technique, and he will have nightmares about missing a free header in injury time.
Ironically, it was Hulk, who has had a poor tournament so far who was the standout performer, scoring the goal and so nearly making a second.
If I were a Premier League talent scout, looking to grab a Brazilian starlet I'd be opting for Leandro Damiao who was strong in the air and held the ball up well. Should Spurs be able to pick him up for £15m they might find they've done well.
But enough about Brazil, this was Mexico's day. The greenshirts hustled and bustled and got back to made tackles and blocked and pushed themselves hard throughout the 90. And when the ball broke they had the quality in Peralta and Fabian to make counter-attacks count.
Tactically they got it right and they had the personnel to execute their dressing room plan.
Amid the heroics of the rest of London2012, the men's football hasn't quite captured the imagination. That should not detract from Mexico's achievement, they are worthy Olympic champions and no one will take them for granted again.
Matt Holland

Former Republic of Ireland midfielder Matt Holland talks all things football from the Premier League to the grass roots.
Who will win the Champions League?
Thanks for being one of the first people to vote. Results will be available soon. Check for results
Total Responses: 1,540
Not scientifically valid. Results are updated every minute.