Ronaldo going last is ridiculous
There is no way Cristiano Ronaldo should be taking the final penalty, but we shouldn't necessarily be blaming him...
Portugal manager Paulo Bento said before the tournament even started that he would be picking the order of penalty takers, should it get to that stage, so chances are Ronaldo didn't have any say at all.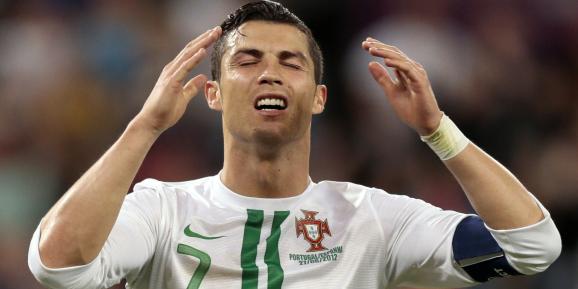 Even so, it was a ridiculous decision to put him last. You should have your best penalty taker third, because it is likely to be the most important one, whether you're winning or losing. But without question they should go in the first three penalties.

Sergio Ramos was extremely brave and credit has to go to the lad for trying the 'Pirlo chip' in such an important game. He showed guts by going up to take it in the first place, having blazed that one over the bar in the Champions League semi-final against Bayern Munich, but to take it like that is remarkable.
I feel for Bruno Alves because that walk is long enough, and to have to do it twice must have been very tough. Possibly that added a little bit of doubt in his mind, and maybe even affected where he was going to place the penalty. Sadly, it proved the crucial miss.

Nani did the right thing though in tugging him back as they would have had to have submitted an ordered list before they started. So it would have been even worse for Alves to have placed the ball, maybe even taken the kick, only to be told by the referee that it wouldn't count.
It is always heartbreaking to lose on penalties, but Bento must take a lot of the blame for not making his talisman take an early penalty.
I am fed up with people moaning about penalty shoot outs. It is pure theatre and drama. I would extend them so that every player on the pitch takes one at the end of extra time.If you have a player sent off, tough luck, you only get ten pens!! Sepp Blattter is wrong to moot about getting rid of them.Hope Franz Beckenbauer tells him it is the best way to decide a stalemate.
Are you sure you want to delete this comment?
Matt Holland

Former Republic of Ireland midfielder Matt Holland talks all things football from the Premier League to the grass roots.
Is Hodgson the right man to lead England into Euro 2016?
Thanks for being one of the first people to vote. Results will be available soon. Check for results
Total Responses: 1,615
Not scientifically valid. Results are updated every minute.