Pirlo was magnificent and England will know they were second best
I feel for England. I've been there myself. Penalty heartbreak always stays with you. But the better team won and the tournament's best four teams are in the semi-final.

If England are honest, they'll know they were second best.
They looked tired in midfield and Steven Gerrrard and Scott Parker needed help in there.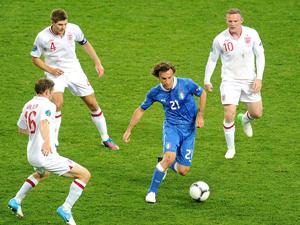 No one got near Andrea Pirlo. I'm not convinced England should have man-marked him but they certainly could have done a better job getting around him.
I would have asked Rooney to play in a central role behind the striker so he could drop in and get around Pirlo.
There was a 20-minute period in the first half where England were the best they've been in the tournament. They played with a lot of energy in that period and broke quickly and got about the Italians but they weren't able to keep it going.
Italy had more composure and were able to keep the ball much better and they got on top because of that. Ultimately, I thought England looked like a very tired team.
I don't think Wayne Rooney was match fit. He's one of those players that needs to play every week and, if they miss some games, take a few weeks to get back to full fitness.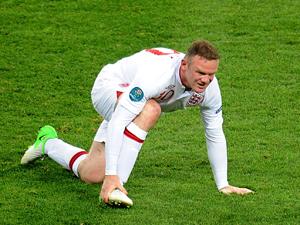 Roy Hodgson has done so much right it in this tournament but I felt he should have given Rooney a full 90 minutes in one of the pre-tournament friendlies.
You can do all the running you like in training, after that first game back you always feel it.
Tonight, I didn't have any problems with the changes Roy made. In fairness, he could have changed either central midfield player. Gerrard was out on his feet and went down with cramp on 70 minutes. The captain did well to even finish the game.
Theo Walcott didn't have the same impact on the game that he made when he was introduced against Sweden. He showed glimpses of his pace but not enough. England didn't give him enough of the ball. Every time they won the ball they gave it away immediately. Andy Carroll has his limitations but I thought he did OK when he came on. He had to live of scraps though.
I thought John Terry and Glen Johnson had good games but Italy did well exposing Terry's lack of pace. Antonio Cassano dropped deep to create space for Andrea Pirlo to put balls in behind.
At this level, the threat of being defensively exposed is always there so England tend to drop deeper and deeper. Tonight was the first time in the tournament that the England defence actually caught an opposition player offside! That alone shows how deep they have to defend because of Terry's lack of pace.
England stuck with the rigid two banks of four and were forced further and further back and allowed the opposition to have more and more possession. In contrast, Italy pushed on. The two full-backs bombed on, almost playing like wingers at times. I've seen all Italy's games through the tournament and they have impressed me with their ball retention.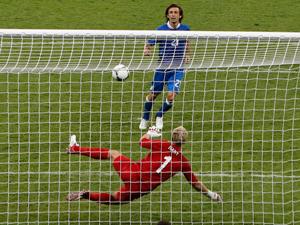 Pirlo is a magician, he's been magnificent. His penalty tonight was unbelievable. I've seen one player, Paolo di Canio, take one like that in a game for a team I played in. But on that stage, wow, Pirlo must have nerves of steel!
You risk looking extremely stupid if it goes wrong. It was a moment of genius. His performance was exceptional.
Yes, he had plenty of time and space, far more than England would have liked, but he was utterly immense.
Are you sure you want to delete this comment?
Matt Holland

Former Republic of Ireland midfielder Matt Holland talks all things football from the Premier League to the grass roots.
Who will win the Champions League?
Thanks for being one of the first people to vote. Results will be available soon. Check for results
Total Responses: 929
Not scientifically valid. Results are updated every minute.