Ashley and Ashley: try hair of the dog
The pain of missing never goes away but it does diminish with time.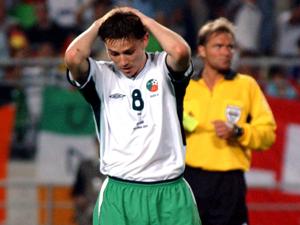 From thinking about it every minute, you go to every five minutes to one an hour, a day, a month and then just on the odd occasion, like last night when you see it happen to someone else.
I can remember sitting in my hotel room in South Korea talking to my wife on the phone in floods of tears after the shootout against Spain.
At that time it really seemed like the end of my world, not just my World Cup. But I did find some kind of redemption of a sort when a Uefa Cup tie with Ipswich went to penalties. Joe Royale asked who wanted to take one and I said No.
And he replied: "You're taking the first one." And I scored. In the changing room afterwards I remember he said to me "Back on your bike" and to a degree it was.
A similar thing happened with Stuart Pearce. So the best advice I can give to anyone who misses in a shootout is: go out and take another penalty. It's the only way to exercise the ghost that will haunt you.
Matt Holland

Former Republic of Ireland midfielder Matt Holland talks all things football from the Premier League to the grass roots.
Who will finish highest in the Premier League?
Thanks for being one of the first people to vote. Results will be available soon. Check for results
Manchester United

703 votes
Total Responses: 4,186
Not scientifically valid. Results are updated every minute.