Hope Powell's ready to take on the Football League
Unlike the untried men's team, the women's squad is largely made up of the England team that reached the Quarter-finals of last year's World Cup.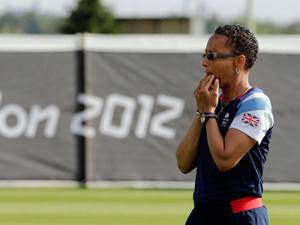 I have been hugely impressed by Hope Powell's side. They have been organised and disciplined (the only side yet to concede) but have also played with great spirit and no shortage of skill.
They have totally embraced this competition and the record attendance for a women's game in England of over 70,000 that saw them beat Brazil at Wembley the other day was testament to how the public have been captivated by their performances. If they get to the final the Olympic record crowd of 76,489 will surely be beaten.
There have been some outstanding individual performers, none more so than Steph Houghton who has scored in three consecutive games, but it hasn't been about one player, it has been a real team effort.
Like the men however, if they want to make the final they will probably have to do it the hard way. The likelihood is that they would then be faced with overcoming the reigning Olympic champions USA. It may be a game too far but they are riding the crest of a wave and I wouldn't rule them out upsetting the odds.
A bronze is definitely on the cards but it's possible they could go one or even two better.
Whatever the outcome, there's no doubt where praise is due. Hope Powell has been the England coach since 1998 and oversees the whole set up from U15's onwards. She was awarded the coaching pro licence in 2003, studying for it alongside Pearce, and is loving the opportunity to manage on the Olympic stage.
But would she be tempted into managing in the men's game? Or more pertinently would anyone take a risk in employing her? I think the answer is yes to both.
Football is evolving all the time and we are seeing more and more women involved in the men's side in varying roles. She was linked with the Grimsby vacancy in 2009 but didn't get it and there is no doubt it would be a brave move to give her a chance. But why not?
Are you sure you want to delete this comment?
Matt Holland

Former Republic of Ireland midfielder Matt Holland talks all things football from the Premier League to the grass roots.
Who will win on Sunday?
Thanks for being one of the first people to vote. Results will be available soon. Check for results
Total Responses: 1,018
Not scientifically valid. Results are updated every minute.