Get involved with the London Youth Games
Last week I was back in my home borough of Waltham Forest in east London, going into some schools around the area promoting the London Youth Games.
The Youth Games is the biggest sporting event of its kind in Europe, it features around 30 different sports and, in the past couple of years, has seen over 70,000 participants take part.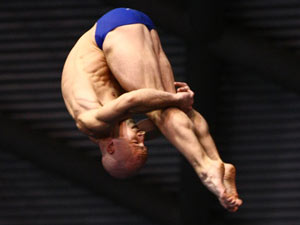 It's a great event and a great way to get young people involved in sport. Whether they already do sport or not, the Youth Games provide the chance for everyone to have a go.
You go to represent your borough and compete against other boroughs in London so it's a great opportunity to compete for a team just like you would in the Olympics.
You pick up points depending on the position you come in your competition. This is then added to your borough's final points. Finally, there's an awards ceremony at the end of the weekend to see which borough has won. It's a fun and competitive event.
I used to compete at the London Youth Games when I was first starting out in diving. I loved it and used to think of it as a mini Olympics.
I also loved it because I got to represent something, not just a club but the area where I came from, a little bit like representing your country.
Now I do represent my country. I've done so at three Olympics and picked up a medal at one. But I started at the London Youth Games. It's a great way to try new sports and meet new people that share something in common with you, but most of all its lots of fun.
If you'd like to take part, or you feel your son or daughter would like to get involved, go to the London Youth Games website and find out how you can enter.

Good luck and all the best!
Pete Waterfield

Olympic silver medallist 2004, commonwealth gold 2002 and silver 2006 and has won medals in every major event on the diving calendar.
In his own words
What has been your favourite Olympic venue so far?
Thanks for being one of the first people to vote. Results will be available soon. Check for results
Olympic Stadium

6,153 votes

Aquatics centre

3,995 votes

Basketball Arena

303 votes

Horse Guards Parade

1,888 votes
Total Responses: 13,982
Not scientifically valid. Results are updated every minute.