The Olympics are like exams but more fun
I'm going to be first into the Olympic village and I'm going to pinch the towels…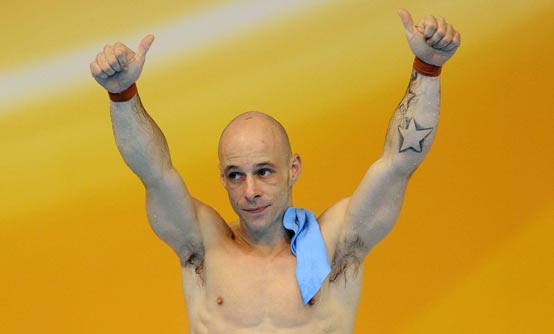 The diving squad are going to be the first athletes into the Olympic village, which I'm very excited about. I've left home for the last time before the Games now, heading up to Southend before we go to the Park on Monday to get some training in the real pool.
That's a bit of an advantage for the GB divers (as it should be because they are OUR Olympics) because the other teams won't get to dive in the Olympic pool until the competition itself.
I'll be rooming with Nick Robinson-Baker who's doing the springboard synchro because his events time quite nicely with mine. The choice is made by the team but I'm pretty glad because Nick's a great lad and we've shared together many times before. Also he doesn't snore.
It's very cool going over to the Olympic Village. There's always so much to do: games rooms, Xboxes, people to meet, places to hang out. The problem is, my events are at the very beginning (synchro) and very end (individual) of the Games so I don't get much time to really chill out.
It's a bit like doing exams but a bit more fun - you do all your revision and you either want to start early and get them out of the way or start late and watch everyone else going through the pain first.
I remember past years going down for breakfast on the morning of an event and seeing other athletes coming in from their night out and feeling a little bit jealous!
Once you've finished you can really take advantage of all the great facilities. You can get your hair cut, nails done (neither of which is much use to me) but at the end you're allowed to pinch the Olympic blankets and bathrobes, unlike in hotels.
I did have a couple of Olympic towels in my bathroom at home but I'm not sure where they are now, perhaps in the loft or maybe some house guests walked off with them!
Are you sure you want to delete this comment?
Pete Waterfield

Olympic silver medallist 2004, commonwealth gold 2002 and silver 2006 and has won medals in every major event on the diving calendar.
In his own words
What has been your favourite Olympic venue so far?
Thanks for being one of the first people to vote. Results will be available soon. Check for results
Olympic Stadium

6,153 votes

Aquatics centre

3,995 votes

Basketball Arena

303 votes

Horse Guards Parade

1,888 votes
Total Responses: 13,982
Not scientifically valid. Results are updated every minute.