PB yesterday but we can still be better
Yesterday at the national championships felt awesome. It was brilliant for me and Tom to get a PB and a new British record but the best point is that there is still room for improvement.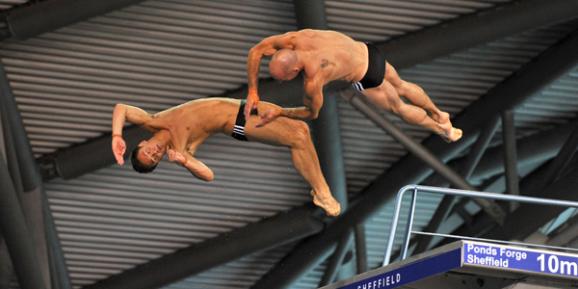 I know I'm not at my best because I've had a lot of disruptions to my training from niggling injuries and yesterday I missed the end a little on the back 3 ½ and front 4 ½ too. Both of those dives went really well in training so there's definitely potential for us to take things still further.

People often forget that Tom and I are a relatively new pairing and it's natural that we're getting better all the time as we become more comfortable as a team.
That said, we've already put down a few markers – with the World Series and the various medals we've picked up so we've shown we can compete with the very best.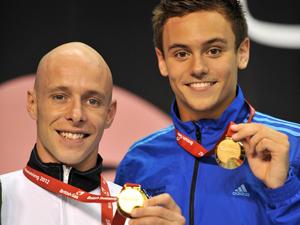 However, we still haven't done that much training together so I'm looking forward to heading off for our two-week training camp in Spain. Hopefully we'll still be able to catch most of the football but there will be a lot of hard graft - mostly conditioning work to restore the power and fitness that you inevitably lose during competition season because you can't get so much time in the gym.
The truth is that I love that kind of stuff, which many people a find little strange, but it's great to be able to get stuck in. Only the flexibility exercises can get a bit boring, the rest is great fun.
Of course the last thing before we go away is the small matter of the individual Nationals which will be the last time I get to compete against Tom before the Games. The reality is it's a bit of fun as we've both already qualified and it doesn't really matter who wins. But I have to concede that the way Tom's diving he'll be the favourite. Let's see what happens.

this is an successful and admires club.
With a brave and outgoing heart to love to date and make friends...... 
(PLEASE GOOGLE or bing ..... seniorwoo.....)......... socialize with the best of best
For a brief moment Errani was the champion, but that was simply an error by the announcer that brought laughter all round, and it was not long before Sharapova was presented with the trophy by three-time winner Monica Seles.
Are you sure you want to delete this comment?
Pete Waterfield

Olympic silver medallist 2004, commonwealth gold 2002 and silver 2006 and has won medals in every major event on the diving calendar.
In his own words
What has been your favourite Olympic venue so far?
Thanks for being one of the first people to vote. Results will be available soon. Check for results
Olympic Stadium

6,153 votes

Aquatics centre

3,995 votes

Basketball Arena

303 votes

Horse Guards Parade

1,888 votes
Total Responses: 13,982
Not scientifically valid. Results are updated every minute.