Dad's going to need to find a new medal wall
It's all about winning medals, so to come back from China, where diving is such a big deal, with in individual bronze and a synchro silver, is a great feeling. Of course these competitions are just stepping stones for the real thing but they still count.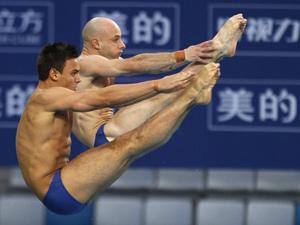 I've given the medals to my dad, who keeps them on a wall at home. I have my Olympic, Commonwealth and World Championship medals to show when I visit schools or do functions but he keeps everything else. They're in order by competition but all the space has been filled and he's having to slide new ones into the gaps. If I keep on like this he's going to have to find a new wall pretty soon – here's hoping!
It was pretty intense out in China, not a lot of time to have any fun but we did get a chance to visit the old market in Beijing. Most of the guys stocked up on loads of electronic kit but I just got a new pair of headphones. I like to listen to music on the coach – quite a mix of stuff, from drum and bass to Eminem – but not usually in competitions, unless Tom has his iPod on then I'll usually do the same.
I'm coming to the end of precious week at home with my family now, before we head off to Russia for the next leg of the World Series. It's getting to that time when I start to get a little bit paranoid about injuries – it's serious buildup now and I'm really listening to the messages from my body to try to avoid what happened before Beijing.
Of course, not all injuries are avoidable, but pushing yourself too hard can be dangerous. If my body's feeling tired in training, I'm very careful to ease off, although cruising can be equally dangerous because it means you're not prepared for the step up to competition level.
There's a delicate balance and at the moment I'm feel like I'm getting it right. But taking nothing for granted.

Does anyone know the date of the closing ceremony for the 2012 games?
After earning my own medals (4) whilst serving in the British Army, I simply cannot believe that people can win a medal for riding a bike, chucking a stick, jumping into a sand pit , walking fast, or diving into a pool,GOD What has the world come to?
Are you sure you want to delete this comment?
Pete Waterfield

Olympic silver medallist 2004, commonwealth gold 2002 and silver 2006 and has won medals in every major event on the diving calendar.
In his own words
What has been your favourite Olympic venue so far?
Thanks for being one of the first people to vote. Results will be available soon. Check for results
Olympic Stadium

6,153 votes

Aquatics centre

3,995 votes

Basketball Arena

303 votes

Horse Guards Parade

1,888 votes
Total Responses: 13,982
Not scientifically valid. Results are updated every minute.