Your support matters so please watch and cheer
We had a go and we made a mistake. At this level you can't afford to do that and we paid the penalty.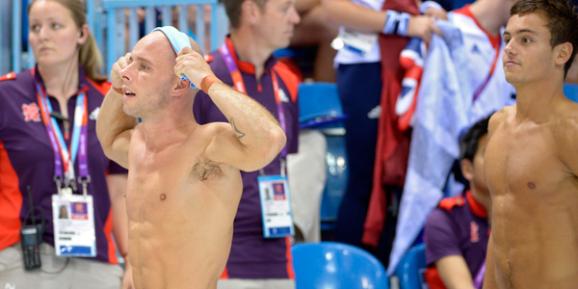 To be honest I haven't really watched it back yet though I will after everything is over.
But my son, who's 11, was at the competition and afterwards he said he was proud, that he'd enjoyed the day and that I'd inspired him and I hope that's the message people have taken. Anyone who's a parent will understand what that means.
I know everyone will be disappointed that we didn't get a medal, Tom and I were both devastated, but in the end we finished fourth in the world. I'm going into the individual competition confident that I can make it onto the podium and I know if I don't and finish empty handed it will really hurt. But I also know that when I look back in a couple of years' time I will be proud of what I have managed to achieve.
Just being at these Games has been a tremendous experience; the support has been incredible, way beyond anything I expected. I started the Games on 3,000 Twitter followers, by the time of my dive I had 15,000 and I've now almost hit 65,000 and the comment's I've had have been amazing so I hope I've had some kind of positive impact on people.
Diving is hard. Four years in training for 1.6 seconds in the air. It's worth it though.
And the best bit is that the Games aren't over for me yet. The individual will certainly be tough- - 32 divers compete in the first round until 10pm next Friday and then 18 have to do it all over again on Saturday to reach the top 12 for Sunday's final.
I made the top three in the World Cup in February so I know I can do it again.
Your support really matters so please watch, cheer and hopefully enjoy.
Are you sure you want to delete this comment?
Pete Waterfield

Olympic silver medallist 2004, commonwealth gold 2002 and silver 2006 and has won medals in every major event on the diving calendar.
In his own words
What has been your favourite Olympic venue so far?
Thanks for being one of the first people to vote. Results will be available soon. Check for results
Olympic Stadium

6,153 votes

Aquatics centre

3,995 votes

Basketball Arena

303 votes

Horse Guards Parade

1,888 votes
Total Responses: 13,982
Not scientifically valid. Results are updated every minute.