The Xavi from the Valley
Conventional wisdom holds that Xavi is the best passer of a football in Europe, and probably the world.
But it's wrong. And the stats prove it. Nor do any of the the midfield magician's Barcelona stable-mates hold the crown, despite gaining an impressive eight nominations between them in Fifa's player of the year competition.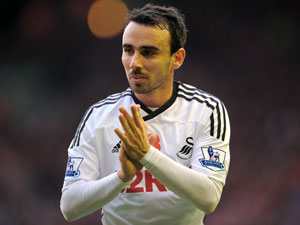 In fact, among Europe's top five leagues the player you can back to pick out a team-mate most often is Swansea City's Leon Britton.
The 29-year-old midfielder tops a pile that features some of the best-known footballers from the Premier League, La Liga, Bundesliga, Serie A and Ligue 1.
Britton's central midfield partner Joe Allen also features in the top 10, which illustrates the style of football Brendon Rogers has instilled in his side.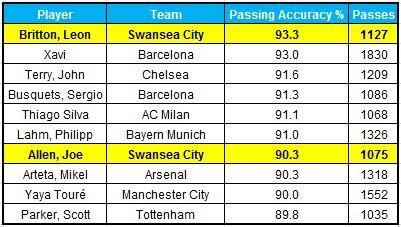 Players with 1000+ passes only
As for the team as a whole, Swansea lie sixth in the table; above Italian giants AC Milan and Roma and north London rivals Tottenham and Arsenal – who are generally credited with playing the most attractive football in England at the moment.
Less of a surpries is that all-conquering Barcelona lead the way in passing, a full 2.2 percentage points better in their accuracy than closest rivals Bayern Munich.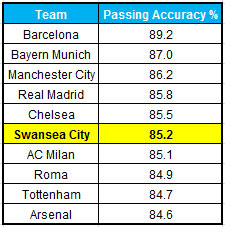 So should Fabio Capello give Britton a chance? Should Rogers be a genuine candidate for the soon to be vacated England manager's role?
Let me know @msnuksport_rob
Whatever your thoughts, there's no doubt that Swansea have been refreshing to watch this season and maybe results like that against Arsenal will become less of a surprise from now on.
You can compare the stats from Swansea players with any of their Premier League rivals on our club pages.
Are you sure you want to delete this comment?
Rob Jones

A fan of all things competitive, Rob plays, watches and shouts on the terraces of most sports.
Lee Harvey

Whether it's football, cricket, cycling, NFL, NBA or major league baseball, Lee will be there and won't be short of an opinion.
Who will win the Champions League?
Thanks for being one of the first people to vote. Results will be available soon. Check for results
Total Responses: 814
Not scientifically valid. Results are updated every minute.