Fabio Capello's England: average score 2:1
Fabio Capello has the best post-war record of any England manager. Despite the dismal failure of the World Cup campaign in South Africa, his 28 victories from 42 games surpass even that achieved by Sir Alf Ramsay.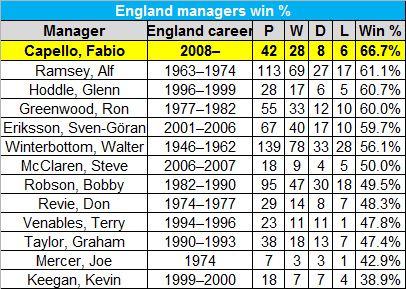 Five England managers have served longer, but even had Capello continued to the end of the European Championships as originally planned, he couldn't have outstripped Ron Greenwood who presided over 55 games.
Capello's England have scored an average of 2.1 goals a game, conceding on average 0.83 goals. More than two thirds of those came from open play and the team's respectable pass completion rate of 83% suggests they played relatively attractive football (Chelsea and Swansea, the top passers in the Premier League, manage about 85%).
Gareth Barry has seen his international career blossom under the Italian, claiming 35 caps, ahead of Wayne Rooney, Ashley Cole and Frank Lampard. John Terry played 30 times, 21 as captain.
The players picked by Capello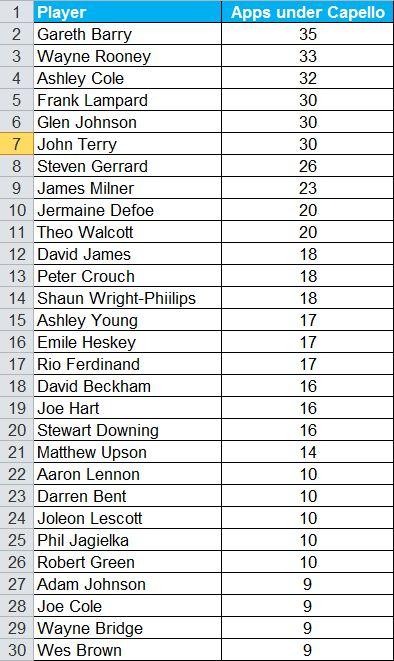 Rob Jones

A fan of all things competitive, Rob plays, watches and shouts on the terraces of most sports.
Lee Harvey

Whether it's football, cricket, cycling, NFL, NBA or major league baseball, Lee will be there and won't be short of an opinion.
Who will finish highest in the Premier League?
Thanks for being one of the first people to vote. Results will be available soon. Check for results
Manchester United

694 votes
Total Responses: 4,164
Not scientifically valid. Results are updated every minute.