Premier League weekend in numbers
Did the statistics produced by this weekend's Premier League fixtures match the excitement produced on the pitch?
Chelsea v Manchester United
Despite each conceding three goals, both Petr Cech and David de Gea made six saves in this game. Chelsea made only eight tackles in the match while United made 29.
Fernando Torres set up three shots, including Juan Mata's goal but had just two attempts himself (both off target).
Newcastle United v Aston Villa
Villa managed seven shots on target to Newcastle's three but still lost.
Arsenal v Blackburn Rovers
This was only the second occasion that Theo Walcott (three) has assisted more than one goal in a single Premier League game. Ten of the last 11 goals that Walcott has assisted have been scored by Robin van Persie. Walcott also became only the fourth player to assist three goals in a single Premier League game this season.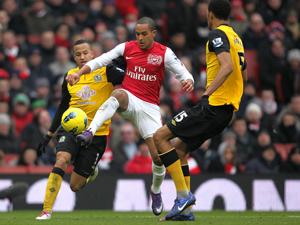 Arsenal's seven goals came from just eight shots on target while Blackburn managed just one shot in Arsenal's area (off target).
Mikel Arteta completed more final third passes than any other player this weekend (29).
Manchester City v Fulham
Despite being comfortably beaten by Manchester City, Fulham had the highest passing accuracy in the Premier League this weekend (88.3%) and made more passes in total than their opponents (572-507).
Norwich City v Bolton Wanderers
77% of Bolton's passes were made in the attacking half – a higher proportion than any other side in the Premier League this weekend. The Trotters completed only 71.7% of their passes in their own half, by far the lowest success rate in the Premier League this weekend.
Queens Park Rangers v Wolverhampton Wanderers
QPR have dropped more points from winning positions that any other Premier League side (15) while Wolves have won more points from losing positions than any other team this season (13).
55.8% of QPR's attacking play came down the right flank, compared to just 14.9% via the left. Not one of QPR's crosses in this game found its target.
Stoke City v Sunderland
Sunderland have picked up the joint-most points in the Premier League since Martin O'Neill took charge of his first game (22, with Manchester United).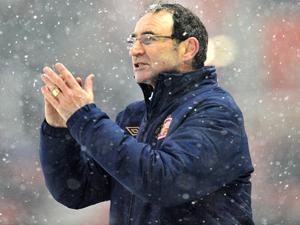 The Black Cats had just one shot on target in this game, and only had six shots in total.

This match saw the fewest shots in total of any Premier League this season (15), level with Bolton v Sunderland.
West Bromwich Albion v Swansea City
Swansea have scored five goals from just six shots on target in their two Premier League games against West Brom this season.
Joe Allen made 10 tackles, more than any other player this weekend.
Wigan Athletic v Everton
Leighton Baines has assisted 13 goals in the Premier League since the start of last season, more than any other defender.
Rob Jones

A fan of all things competitive, Rob plays, watches and shouts on the terraces of most sports.
Lee Harvey

Whether it's football, cricket, cycling, NFL, NBA or major league baseball, Lee will be there and won't be short of an opinion.
Who will win on Sunday?
Thanks for being one of the first people to vote. Results will be available soon. Check for results
Total Responses: 723
Not scientifically valid. Results are updated every minute.