Rijkaard's record at Barcelona dwarfed by Guardiola's success
Pep Guardiola will leave Barcelona at the end of the season, ending a trophy-laden four-year spell in charge.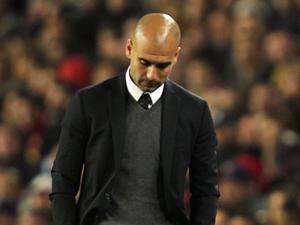 Guardiola's predecessor in the Camp Nou hot seat, Frank Rijkaard, guided the Catalan giants to domestic and European success during his tenure but even the Dutchman's record as coach is dwarfed by the Spaniard's success.
Under Guardiola, Barcelona have won 175 of 242 games, a winning percentage of 72.3%.
Rijkaard's record? 160 wins from 273 matches, a winning percentage of 58.6%.
While Rijkaard suffered 50 losses in his time in charge, Guardiola lost just 21 games.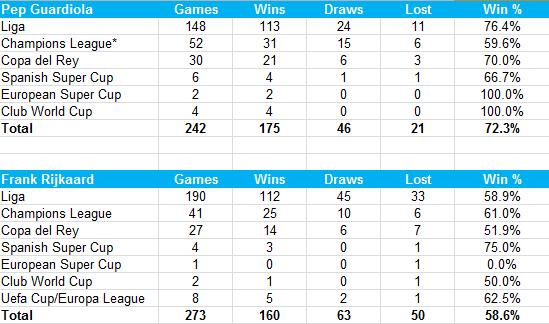 Somewhat surprisingly, Guardiola's overall record in the Champions League is slightly inferior to that of the Dutchman. Rijkaard's Barca won 25 of 41 matches (winning percentage of 61.0%) in Europe's top club competition while Guardiola's record stands at 31 wins from 52 games (59.6% winning percentage).
In Guardiola's favour, Barcelona won the Champions League twice under the Spaniard compared to Rijkaard's sole European triumph in 2006.
In trophy terms, Guardiola also trumps Rijkaard in terms of La Liga titles (three to two), European Super Cups (two to one) and World Club Championships (two to none).
For more football news and stats follow msnsportlee on Twitter
Have your say on Facebook
Are you sure you want to delete this comment?
Rob Jones

A fan of all things competitive, Rob plays, watches and shouts on the terraces of most sports.
Lee Harvey

Whether it's football, cricket, cycling, NFL, NBA or major league baseball, Lee will be there and won't be short of an opinion.
Who will win the Champions League?
Thanks for being one of the first people to vote. Results will be available soon. Check for results
Total Responses: 1,097
Not scientifically valid. Results are updated every minute.