Top transfer targets
With the fixtures announced this Friday, clubs are already well underway in planning for next term, even though it seems like just yesterday the season was concluded.
A football-free summer guarantees ridiculous transfer speculation. Instead of conjuring up complete works of fiction - as if Javier Mascherano would sign for West Ham! Whatever next? Or Hamburg are going to build their team around Michael Mancienne?! - I'm going to look at some players that are almost certainly on the move.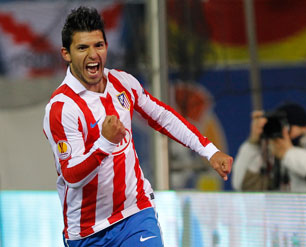 Bank Breakers

SERGIO 'KUN' AGUERO
The 23-year-old, who feels like he has been on the scene forever, has reportedly told his employers on the red side of Madrid that he wants to leave. The pacey forward, who combines razor-sharp movement with a deft eye for goal, is arguably a more rounded player than Luis Suarez and is set to cost potential suitors in excess of £35 million.

Latest transfer rumours
Last season Agüero netted 27 times for Los Rojiblancos and the frontman, who is also bestowed with the unique pleasure of being Diego Maradona's son-in-law, has been strongly linked with a move to both Real Madrid and Chelsea.

NEYMAR
With his outrageous haircut, which was first seen worn by Rufio in Hook, and his name that reportedly inspired Outkast's 2003 smash hit, Neymar is a bountiful source of completely fictitious statements.
Follow The Fan on Twitter

What is completely accurate, however, is that the Santos forward is a seriously talented footballer and is a key part of new Brazilian coach Mano Menezes' restructured side.

The 19-year-old has tricks in abundance, can finish and is able to float into space off a frontman in a similar way to a certain Lionel Messi and is set to move to Europe for a very large sum of money sooner rather than later.

ALEXIS SANCHEZ
Arguably one of the most exciting players to feature in the 2010 World Cup, Chilean winger Alexis Sanchez has been linked with a host of top clubs. The Udinese flyer, who is an incredibly direct runner, is only 5ft 6 but makes up for his lack of height with great balance, agility and strength.
  
The 22-year-old has won 36 caps for his country, scoring 12 goals, and looks set to bring his box-office game to the highest bidder very soon.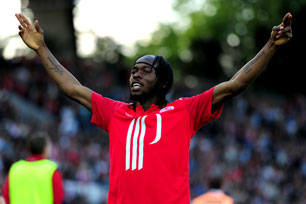 Value for money

GERVINHO
When you're talking Ivorian strikers, Didier Drogba unsurprisingly springs to mind first, but Lille's Gervinho has a reputation that is rapidly increasing both in France and in the rest of Europe.

As a man who's hairline is sadly heading further and further north, I was instantly captivated by the phenomenal combination of braids and a obviously balding head that Gervinho brought to the table in last year's World Cup group stage game with Portugal. However, despite his Maid Marian style-do, the 24-year-old has won plaudits for more concrete reasons after helping Lille to their first French League Championship in 57 years.

A fee of around £10 million could tempt his club to sell, with Arsenal reportedly in the box seat to bring the player to North London.
JOSE ENRIQUE
With only a year to run on his contract, Newcastle look set to lose highly rated Spanish left-back Joes Enrique. With a number of sides in the market for a good full-back with attacking instincts, it seems logical that the Toon will be forced to cash in on one of their more prized assets rather than allowing him to leave for nothing.

Enrique has become a fan favourite at St James' Park, overlapping his midfielder at every opportunity as well as proving to be a reliable figure when asked to defend. He has made 119 league appearances for the Magpies but it seems increasingly that this figure will not rise any more, especially with Barcelona reportedly interested.

SCOTT DANN
Scott Dann is a cult figure with a number of players in my football team on a Saturday afternoon because our skipper rather boldly decided to build his Fantasy Football Team around the Birmingham central defender. Granted he is a classy performer who had forged an excellent partnership with teammate Roger Johnson, but it seemed a bold move considering the likes of Yaya Toure, Javier Hernandez and Robin Van Persie were still available at the time he was secured.

Nevertheless the 6ft 2 former Coventry defender's injury in January was arguably the most significant of the Blues' woes, and with them relegated, Premier League clubs are circling like the opportunistic vultures that they are. A fee of around £5 million might be enough to prise the highly-rated 26-year-old from St Andrews.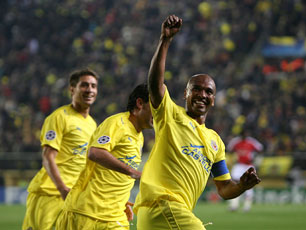 Freebies

MARCOS SENNA
Perhaps, the most surprising free agent, certainly with respect to a move to England, is Spanish holding midfielder Marcos Senna. The former Villareal skipper was a hugely influential component of Spain's Euro 2008 winning side where he screened the back four magnificently, giving the likes of Xavi and Andres Iniesta the opportunity to get on the ball. He is also capable of striking the ball from distance with real venom.

The Brazilian-born battler, who turns 35 next month, has been linked with a move to newly promoted Swansea and it could prove to be a great bit of business by Brendan Rogers if he can attract Senna to South Wales.
JAY BOTHROYD
Before Adel Taarabt stole his thunder, Jay Bothroyd was widely regarded as the best player in the Championship. Possessing a wonderful first touch, excellent awareness and a left-foot that is the archetypal Alan Partridge 'traction engine', the Cardiff City striker won his first England cap against France after a blistering first half to last season.

However, after the Bluebirds, once again, came unstuck in the Play-offs, the former Arsenal, Perugia and Wolves frontman has since become a free agent and looks set to have another crack at the Premier League.

With no transfer fee required, a number of clubs could do a lot worse than trying to capture the 28-year-old, who, in my opinion, can definitely cut it in the top flight provided he can channel his frustration better when things don't go his way.

SEBASTIAN LARSSON
Sebastian Larsson is another player who was in Birmingham's relegated side and the Swedish international midfielder is also now without a club. The talented former Arsenal man takes an excellent set-piece and boasts excellent vision to compensate for his lack or raw pace, something that persuaded Arsene Wenger to allow him to leave the Gunners.

Able to play anywhere across the midfield, it can only be a matter of time before Larsson is snapped up either in England or on the Continent.

Follow The Fan on Twitter
Sorry Mr SportUK but 5 Million for Scott Dann are you kidding?
More like 12 Million, after all as you have said in your own post  he has had
a great partnership with Roger Johnson probably the best central defensive
pairing in the premiership for the past two seasons only broken by his untimely
injury.
If Blues do have to part with some of their best players it won't be on the cheap
and one thing for sure I can't see both Dann and Johnson leaving. Gardner is another
paper talk target along with Ben Foster, again I can see one or two going if the right bid comes in but not a low low bid even for cash. Currently the squad is low on numbers so if
we have any hope to bounce back one thing is for sure is that we will be signing more players than selling for sure. Oh and Seb if you can't find a club before the start of the season you would be welcome back here anytime.
KRO
Are you sure you want to delete this comment?
Who will finish highest in the Premier League?
Thanks for being one of the first people to vote. Results will be available soon. Check for results
Manchester United

663 votes
Total Responses: 4,019
Not scientifically valid. Results are updated every minute.