Top transfers so far
How will the big-name signings fare?
With just over a month left of this summer's Transfer Window, we have a look at some of the players that have been snapped up so far and try to assess which Premier League clubs have operated the most shrewdly.
Manchester United
David de Gea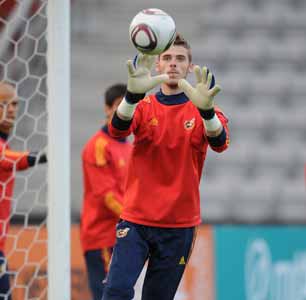 Filling the sizeable gloves of Edwin Van Der Sar was arguably Sir Alex Ferguson's biggest priority in the post-season, and after a lot of speculation Spanish Under 21 stopper David de Gea has been brought in. The 20 year old, who is remarkably similar in stature to the outgoing Dutchman, moves for a fee of just under £19 million and despite his undoubted potential, he will be under a huge amount of pressure of succeed. Young goalkeepers such as Tim Howard and Ben Foster, who have gone on to be proven top quality Number 1's for Premier League sides, struggled to perform to the level that the Old Trafford faithful expects and the 6 foot 4 inch Spaniard will need to combine his athletic shot stopping and good footballing skills with the organisational and calming qualities that his predecessor showed in abundance.
Ashley Young
In addition to Blackburn defender Phil Jones, Manchester United swooped for another English talent in the form of Aston Villa winger Ashley Young. The pacey forward, who enjoyed a more central role last season under Gerard Houllier, will be expected to compete with Luis Nani, Antonio Valencia and Park Ji Sung for a starting berth. It will be interesting also to see how he links up with Wayne Rooney, as like the Red Devils' number 10 he is at his best picking the ball up in deep areas and driving at opposition defences. The 26 year old has great feet, is happy to move onto his weaker left side if required and takes a great set piece. However he has never played in the Champions League and, like de Gea, will be expected to rise to the challenge of meeting United's standards sooner rather than later.
Liverpool
Charlie Adam and Jordan Henderson
Despite a stable that is full of central midfielders, it is clear that Liverpool are signing players who fit a certain template – creativity. In addition to the capture of Aston Villa winger Stewart Downing, providing some much needed width to King Kenny's Reds, Liverpool moved quickly to secure two of last season's most reliable exponents of fashioning a chance. It will be fascinating how these two players will be accommodated along with last season's player of the year Lucas Leiva and a certain Stevie Gerrard, but what is clear is that with the eye both players have for a pass and the razor sharp movement of Luis Suarez up front, there will be no shortage of scoring opportunities making the footage of Match of the Day. The balance offered by Adam's left foot would suggest he will be pushing to start but after shelling out a reported £20 million for Henderson it is fairly safe to assume his intricate, more measured passing game will get some good minutes in the coming season.
Manchester City
Gael Clichy
"Manchester City only sign full backs" is a fairly weak cliché. Manchester City also have a brand new left back, and he is a fairly strong Clichy, Gael. Despite arguably not having his best time for Arsenal in recent seasons he is still a proven performer, and with promising understudy Kieran Gibbs constantly breaking down with injuries it is a gamble by Arsene Wenger to move him on. Clichy is lightning quick, comfortable on the ball and makes a lot of interceptions rather than thundering into tackles like the Maine Road full backs of yesteryear (Danny Tiatto anyone?). Will he be part of a title winning side at Eastlands? Time will tell, although I still feel their red neighbours are still the team to beat.
Sunderland
A load of proven Premier League players.....and Connor Wickham
After selling Darren Bent last season in the January transfer window it is fair to say the wheels came off the Black Cats season. When I say the wheels came off, what I mean is they pinged off several hundred metres, before the car they once supported juddered to a spluttering halt as Midfielder Stephane Sessegon was asked to lead the line. To combat this, Steve Bruce has gone to plan B: Sign a load of experienced professionals and let them do "the ugly things" and "use their know-how" etc etc. If you thought the (Gael) clichés were done you were very much mistaken.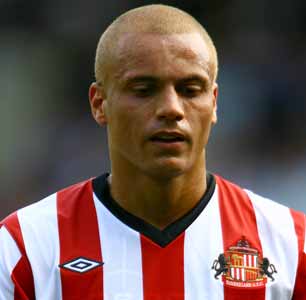 In all seriousness Wes Brown and John O'Shea will raise the standards at The Stadium of Light, as, simply put, they've won everything there is to win in club football and cover a number of positions. David Vaughan and Seb Larsson have also come in on free transfers and it will be fascinating to see how young striker, Connor Wickham will adapt to life in the top flight. He is good in the air, quick and a big, big lad and although he is unlikely to score more than 10 in the league he has a very bright future.
Who will win on Sunday?
Thanks for being one of the first people to vote. Results will be available soon. Check for results
Total Responses: 931
Not scientifically valid. Results are updated every minute.