Alternative team sponsors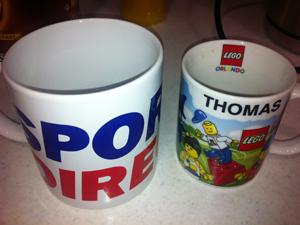 With Newcastle United's controversial renaming of St James Park after a well-known high street sports store, that is infamous for delivering over sized cups (yes, that is mine pictured, left) the likes of which have not been seen in the Magpies trophy cabinet for a very long time, we look at eight more brand names that could link up with a selection of top flight teams.
Liverpool
Whole Foods Market
It's always a pleasant visit and you're relieved to see they stock lots of local produce. However, you do wonder if the extremely inflated prices are really representative of good value for money?
QPR
Carphone Warehouse
After terminating the deal with the previous tenant the new QPR, complete with manager and captain who like to communicate their feelings, are in the market for (at least) a 12 month commitment on a quality handset.
Wigan Athletic
McDonalds
Since being introduced into people's lives, Wigan Athletic have always been in other teams consciousness. You know you're going to go there at least once a year, and it'll be a bit of an anti-climax. Despite assurances of an aesthetically pleasing end product, what you actually receive can make you do a double-take, concerned that someone has been a little careless with where they have been spitting.
Manchester City
Apple
You have all the gear! In fairness you don't need all the gear because your computer works fine, you're emailing, you can surf the internet and you're happy. However, that doesn't matter, because now you are able to get all your new-found admirers to wander around your showroom, buying things just because you can and worrying about what you're going to do with all your new-fangled acquisitions at a later date.
Tottenham Hotspur
Shakeaway
Your end product is contemporary, smooth, cool and very tasty. However, if things don't turn out as you want it is never ever your fault is it Harry? Instead, simply blame the customer for selecting flavours that didn't have a hope in hell of working together and prepare for the next order, safe in the knowledge you can rely on those around you to fall back on more traditional offerings while you smile and nod contently.
Wolverhampton Wanderers
Halfords
The Gold and Black colour scheme is spot on for a start, and there can be little doubt that Mick McCarthy likes a player that is prepared to roll his sleeves up, put a shift in and get from A to B without necessarily using top of the range gear to do so.
Aston Villa
Ronseal Quick Drying Woodstain
Villa fans had to put up with mid-table obscurity for many, many years after Deadly Doug Ellis was reluctant to put his hand in his pocket and help the manager. With this commercial tie-in, Villa fans can endorse a product that allows them to sit all over the table, not just in the centre of it, content with knowledge that they are doing exactly what it says on the tin.
Chelsea
Zara
Everything in stock has a wonderfully slim cut, the fixtures are fitted with all the latest ideas and there is a clear influence from continental Europe. Despite this you're not really sure which size is which, and the way the different components have been combined together does seem to be a little unconventional.
Who will finish highest in the Premier League?
Thanks for being one of the first people to vote. Results will be available soon. Check for results
Manchester United

114 votes
Total Responses: 853
Not scientifically valid. Results are updated every minute.