Serena will blow Radwanska away, says Mark Philippoussis
Ahead of the Ladies' final today, MSN Sport caught up with former men's finalist Mark Philippoussis to get his predictions for the match. Here's what he said: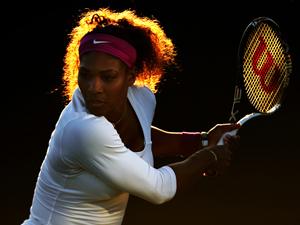 "Serena Williams is the best player in the women's game right now. After playing just six or seven tournaments this year she's come to Wimbledon and made it through to the final and that says it all about her.
"So she goes into today's game the strong, strong favourite. She's simply got too much power and I expect her to blow Radwanska away.
"From what I've seen of Radwanska, she's obviously a good player but she doesn't have the game to go for winners. She likes to move the ball around the court and she reads play very well and that's been enough so far. But against Serena it won't be. You need to be able to hit winners because if you don't Serena will.
"It doesn't really matter what the conditions are, whether the roof is on or off. It's likely to be a very short match on centre court today."

The ladies are physically fit to go the distance of 5 sets, they should if they want the same prize money as the men. It's such a disapointment to watch a Wimbledon final that is over is under 1hr. When someone goes a set down and a break down they seem to give up, as in so many previous ladies finals. If like the men they played the best of 5 to lose the first set and be a break down in the 2nd wouldn't seem like it's almost over and it might see a few more ladies fighting a bit harder and possibly taking the 2nd of 3rd set. This will give the viewers at least 3 sets maybe 4?
Well of course Serena has lots of power but i think that Radwanska will win she's got the potential to win she thinks the Wright way she goes through it she knows how to do it, we will see who wins but Radwanska has every thing and she thinks very well and i think the opposite what Mark Philippoussis says:  Radwanska will blow Serena and she will blow her mind away I believe that Radwanska will win and if she doesn't she would deserve it. 
Are you sure you want to delete this comment?
Rob Jones

A fan of all things competitive, Rob plays, watches and shouts on the terraces of most sports.
Who will win the Champions League?
Thanks for being one of the first people to vote. Results will be available soon. Check for results
Total Responses: 1,523
Not scientifically valid. Results are updated every minute.