Introducing the all-new Andy Murray
Rewind 12 months and Britain's number one Andy Murray was getting battered 5-7 6-2 6-2 6-4 by Rafael Nadal in the Wimbledon semi-finals. Now fast forward to the present day and he is the one dishing out a right royal thrashing, taking down world number six Jo-Wilfried Tsonga.
So what's happened? The Murray bashers will point to the absence of Nadal, Murray's nemesis in the last two years at the All-England Club, as the reason behind the Scot reaching his first ever Wimbledon final.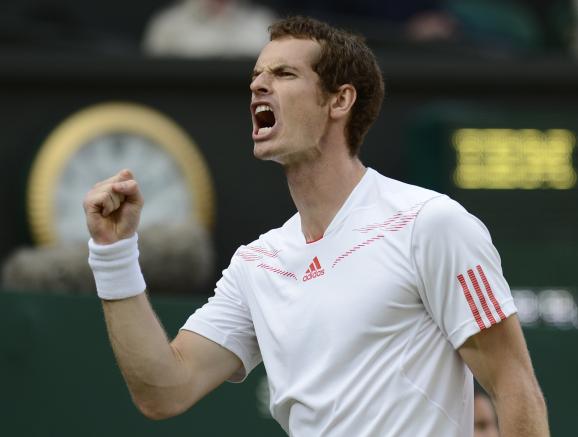 Murray makes his fourth Grand Slam final
True, the absence of the former champion made Muzza's path a whole lot easier, but his presence in the final isn't purely a result of the lack of Nadal's presence.
Here's why Murray is a whole different player from last year.
Focus- having Ivan Lendl in his corner has been huge. He's always had the talent to succeed, but he just lacked the focus and the belief in the big games. Lendl is famously ruthless and seems to have instilled belief in Murray this year.
Emotional control- Similar to the above, but with one crucial difference. The lack of focus affected Murray's game by making him hit daft shots. However, his fist pumps to the crowd, his anguished cries of 'Come on Andy' would often give a huge boost to his opponents. Now that's been cut out, his rivals are looking a lot less assured.

Serve- Murray has been working on his serve for a while and now it is a huge weapon. The speed and placement he got in the quarter-final fourth set blew David Ferrer off the court and he now has another strong string to an already impressive bow.

Preparation- Now this is a strange one. Last year he had, one would have thought, an excellent preparation for Wimbledon by taking the title at Queen's. This year, he lost his opening match, as well as all his invitational warm-up games. This seems to have given him some steel and determination to prove the doubters wrong this year, as opposed to last year where his success may have led to a touch of complacency.
Absence of Nadal- Ok, it's not all to do with the absence of Nadal, but it has played a part. Knowing from the first week that he wouldn't have to play the Spaniard has lifted a huge shadow from the tournament for Muzza. No matter what he says, he will not have been looking forward to a match up with Rafa and the world number two's loss in the third round will have been a huge relief.
Dealing with pressure- There have been so many times in the past when things all get too much for Murray and he just implodes in games. Not so this year. He could have buckled under intense serving pressure from Karlovic but didn't. He could have crumbled under ruthless accuracy from Ferrer but didn't. He could have been intimidated by the weight of history on his shoulder against Tsonga but wasn't. His mind is much stronger and he is all the better player for it.
Are you sure you want to delete this comment?
Rob Jones

A fan of all things competitive, Rob plays, watches and shouts on the terraces of most sports.
Who will win the Champions League?
Thanks for being one of the first people to vote. Results will be available soon. Check for results
Total Responses: 1,108
Not scientifically valid. Results are updated every minute.