The Big Three plus Andy
Why Britain's No 1 is not among his sport's true elite
As Andy Murray begins his annual Wimbledon quest for a semi-final place, Jamie Frier explains that the Scot's talent alone is not enough to challenge the trio who monopolise tennis's real prizes.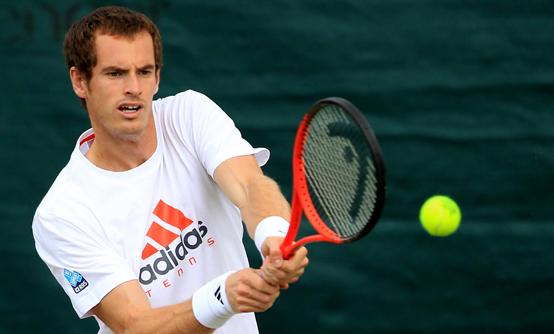 Everybody loves a Big Four. The Premiership, the banking sector, the Allies, Agatha Christie. For some reason, good things come in fours, apart from the banks, obviously. But what about tennis? We hear all the time about 'The Big Four' of Novak Djokovic, Rafael Nadal, Roger Federer and Andy Murray, but is this a big four, or a big three plus Murray?
The Premier League analogy is a good one. For nearly a decade, Manchester United, Arsenal, Chelsea and Liverpool dominated the Premiership, but only three of those teams won the coveted title. Liverpool finished second once and that was the closest they came to taking the title.
The same can be said for Andy Murray. He has finished as the runner-up in three Grand Slam finals now, following his defeat in the 2011 Australian Open, and will always seem to be hanging on to the coattails of Djokovic, Nadal and Federer who have shared 28 of the last 29 Grand Slam titles. One of those three have also finished as runner up in 15 of the last 25, showing the utter dominance of the top three.
"Rankings five to about 50 are pretty much separated by talent, whereas one to four are separated by belief in their talent."
True, Murray has won matches against them, he has claimed titles, but the big prize, the Grand Slam, has always eluded him. Unfortunately, great players are always to be measured by their success in Grand Slams and without at least a couple, Murray will always be remembered as that stroppy also-ran. After all, who remembers Guillermo Coria, Magnus Norman or Yevgeny Kafelnikov when making their list of all-time tennis greats?
Unfortunately for Murray, he is completely out on his own. Novak, Rafael and Roger are all streets ahead of him, whilst he is comfortably clear of the likes of Jo-Wilfried Tsonga, David Ferrer and Tomas Berdych. On his day, Murray has the talent to mix it with the top guys, but that day comes around all too rarely. He is a better tennis player than the players directly below him, but less consistent than the men directly above him.
"Murray clearly has to battle demons in his head, as well as across the net"
Murray is an unbelievable tennis player, with his trademark sprinting cross-court forehand, his drop shots and his powerful serve, when working. However, upstairs is where the difference is. His trio of adversaries have such a strong mentality and winning habit, they hardly think about the winning line, whereas Murray clearly has to battle demons in his head, as well as across the net. Rankings five to about 50 are pretty much separated by talent, whereas one to four are separated by belief in their talent.
Until Murray is able to consistently crush the lower ranked players he will never challenge for the higher rankings, the higher seedings and the better draw. He has lost to three players outside the world top 50 in the past two years whilst the other three have only one such loss in the same time period (Federer losing to Haas in Halle this month).
Murray needs to have a consistent season to bring him into contention, but at the end of the day, no matter how many ATP 1000 titles he wins, no matter how many times he scraps to wins over Djokovic, Nadal and Federer, no matter how many cries of 'Come on' issue from his lips, until he takes a couple of Grand Slam crowns, it will forever be 'The Big Three + Andy.'
Are you sure you want to delete this comment?
Rob Jones

A fan of all things competitive, Rob plays, watches and shouts on the terraces of most sports.
How did you rate the Commonwealth Games opening cermony?
Thanks for being one of the first people to vote. Results will be available soon. Check for results
The best: better than the Olympics

5 votes

Good: well planned and executed

33 votes

OK: what I expected

43 votes
Total Responses: 152
Not scientifically valid. Results are updated every minute.