Federer's the final Murray will have hoped for, says Philippoussis
Former men's finalist Mark Philippoussis gives his views on the big match.
I predicted the results of both semi-finals and that both would end in four sets but the final is too close to call.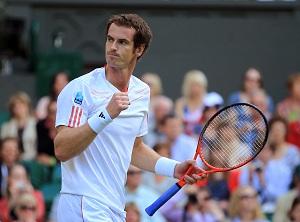 I'd love Federer to win – to regain that number one spot and to prove wrong the critics who said he was past it. I'd also love Murray to win - to be the first Brit for 74 years to take the title on home turf, and to gain the Grand Slam he's deserved for so long.
What's certain is that it will be an awesome match - one to remember.
For my money Federer's the best player ever. Of course he will go a step closer to proving that statistically if he can win here and equal Pete Sampras' record. While he didn't start in the most convincing manner this year, his hitting in his last two matches has been nothing short of incredible.
"If Murray plays his punchy shots he can win"
There's no way he'll have a poor game in the final, that's just not him - not at Wimbledon,  not when there's a Grand Slam to play for; and especially not when he has a chance to regain that world number one spot.
Nevertheless, I think Murray will be happier not to be playing Djokovic. Federer may be the best player of all time but the Scot has a remarkable winning record against him and Federer's game of mixing things up, coming to the net sometimes, will suit Murray's counterpunching style. Murray loves pace on the ball, he likes to finish points off and Djokovic has an amazing and frustrating quality of keeping the ball coming back that puts sustained pressure on opponents.
It's important for Andy to play his own game and stay focused. He can't get negative and allow some of that negative body language to take over. If he waits for errors he'll get beaten because Federer doesn't make them. If he plays his punchy shots he can win.
So much has changed since I lined up against Roger in 2003. The serve and volley style that I used then has been pushed out of the game to a large degree by slower and heavier balls. Federer's approach has been simply to get better, hit the ball harder and improve his variation.
One man is going to make history: either by extending an extraordinary run of successes or ending an extraordinary run of disappointments. Whoever it is will thoroughly deserve it.
Are you sure you want to delete this comment?
Rob Jones

A fan of all things competitive, Rob plays, watches and shouts on the terraces of most sports.
Who will win the Champions League?
Thanks for being one of the first people to vote. Results will be available soon. Check for results
Total Responses: 733
Not scientifically valid. Results are updated every minute.