Lord Moynihan deems Team GB's privately educated medal haul "wholly unacceptable"
The BOA chairman is calling for a rethink of state school sports policy.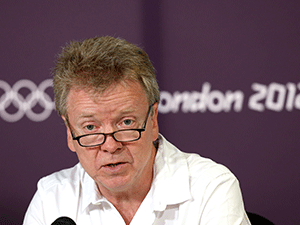 Lord Moynihan has condemned as "wholly unacceptable" the dominiance of privately-educated athletes among British Olympic medal winners.
Just half of Team GB's gold medals in Beijing were won by former state-school pupils which the chairman of the British Olympic Association said was "one of the worst statistics in British sport".
Just 7% of British children come through private schools and Lord Moynihan said that the multitude of untapped talent in the state educated 93% "should be identified and developed".
However, these demands for a rejuvination of school sports policy come in the midst of continuing cuts to school sports funding. In 2010, ringfenced funding to School Sports Partnerships was slashed by 69%, and since then it's been reported by Labour that there's been a 60% reduction in the amount of time spent organising school sport.
David Cameron, an old Etonian himself, recently asked at a speech in Loughborough: "Why is it that, in so many schools, sport has been squeezed out and facilities run down?"
Rupert Murdoch suggested another reason for the failings of state sector school in the UK and US. He tweeted: "No wonder China leading in medals while US and UK mainly teach competitive sport a bad thing. How many champions state school background?"
Are you sure you want to delete this comment?