Team GB win gold and silver in the canoe slalom
The gold and silver medals in the men's canoe double have both been won by Team GB.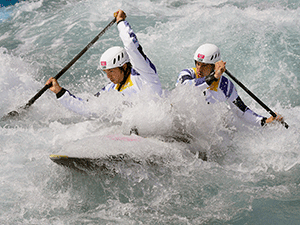 Tim Baillie and Etienne Stott have taken gold in the men's canoe double, closely followed by David Florence and Richard Hounslow in second to grab the silver medal.
The winning pair led from the beginning, having qualified sixth in the semi-finals, but they set a time of 106.41 that proved touchable by only the second Team GB pair. Florence and Hounslow, who won the semi-final and therefore went last in the final, were up on the clock at one point, but couldn't keep up the pace, finishing in 106.77.
Baillie and Stott have won Team GB's first ever Olympic gold medal in this event. Slovakia's Pavol and Peter Hochschorner won the bronze medal with a time of 108.28. Up until now the brothers, who are ranked the number one pair in the world, had never been beaten in an Olympic final.
"The run we had, I was hoping it would be good enough for a medal, but I didn't expect that," said Baillie.
When asked how it felt to beat the Slovakian brothers, Stott replied: "they're amazing athlethes, this takes nothing off them, they are an amazing crew."
Are you sure you want to delete this comment?