Day 30- Torch relay through Gateshead
Amy Lockhart describes scenes inside Gateshead International Stadium
Sitting watching Bear Grylls zip wire from The Tyne Bridge on TV, excitement was building in the Lockhart household. Tomorrow morning we were going to Gateshead International Stadium for our chance to see the Olympic Torch.
Family friend Jane Wood was passed the flame from Bear Grylls and carried it over the Millennium Bridge, a moment of pride sweeping over us all.
At 5.30am the next morning my alarm went off and I jumped up to get ready. By 6.45am I was on my way to Gateshead International Stadium. By the time I got there, the crowds were building and the atmosphere was electric.
A local band was playing and a group of children from surrounding schools huddled to make a Guard of honour ready for the torch coming through. Neither the rain nor the early morning dampened anyone's spirits.
At 7.40am the crowd went wild, this was the moment we'd all been waiting for. The torch had arrived.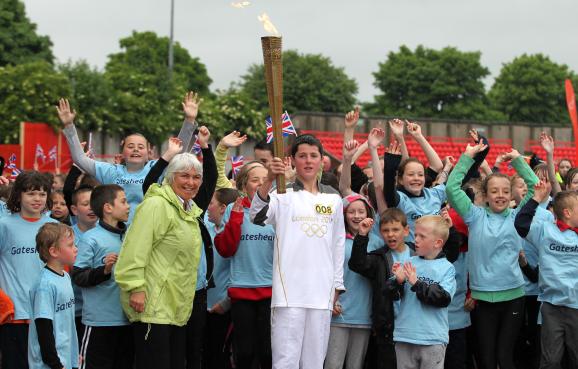 The group of children who had been patiently standing waiting for the torch to arrive, followed it around the track. This was a sight none of us were going to forget.
After the torch finished its lap, we headed for home. Even though for us it was all over, it was something that will live with me forever.
Follow me on Twitter: @amy_lockhart 
Blog: www.amylockhartpr.wo​rdpress.com