Iain Percy and Andrew Simpson lose their Olympic crown
Percy and Simpson win silver but lose the title they won in Beijing
Iain Percy and Andrew Simpson lost their Olympic crown in dramatic circumstances as they were edged into silver by the Swedish crew in a nail-biter in the men's star class.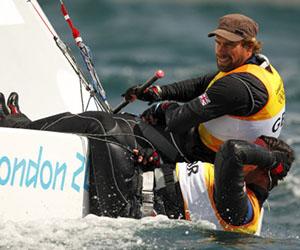 They entered this afternoon's  medal race in a commanding lead of nine points over rivals Brazil and Sweden, but the Scandavians produced a stunning display to snatch a shock gold.
The Team GB crew allowed the bronze placed Swedes to break ahead whilst they focused their attentions on a tactical battle with the Brazilians to ensure the South Americans could not make any inroads into their lead.
With Sweden winning the race the British team knew they just had to finish in the top six, and going into the final 200m the gold was hanging round the necks of Percy and Simpson, but they dramatically fell to eighth and had to settle for silver.
The British pair were frustrated afterwards with Percy reflecting he was "gutted" before adding that the imense support of the crowds was "the only thing that can put a smile back on my face."

Simpson was magnanimous in defeat complimenting the Swedes and Brazilians before adding, "this sport is a lottery, we can't blame it on ourselves."

Are you sure you want to delete this comment?