Disqualification was the only option
MSN Sport's Rob Jones says it's right to make an example of the match-fixers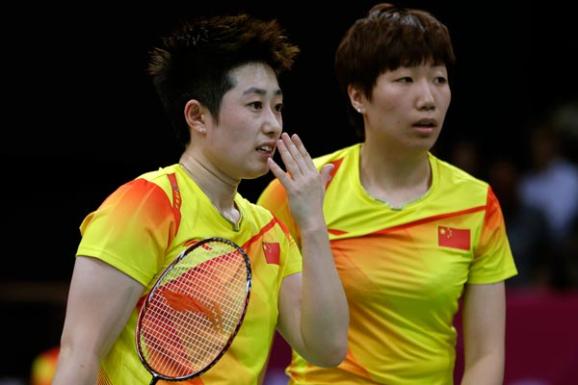 After going to see the table-tennis on Sunday I was thoroughly looking forward to seeing another high-paced racquet sport on Tuesday night.
In front of an almost capacity Wembley Arena the final group stage matches of the women's badminton double descended into utter farce.
Yu Yang and Wang Xiaoli the number one seeds from China 'played' against Jung Kyung-eun and Kim Ha-na of South Korea, seeded 8.
After a very brief warm-up the match began with the first few points ending with unforced errors.
With my badminton knowledge limited initially I put this down to a Olympic pressure, but as it continued murmurs of laughter could be heard from the crowd. These murmurs quickly transform into booing as the astonished crowd looked at the score and saw that 21 points had been played without a rally of more than four shots.
It is clear when professional athletes, especially the best in the world, are simply not trying.
At one stage eight consecutive serves had either limply gone into the net, aimlessly gone wide or been called for an overt foot fault.
The umpires and tournament referee, who initially sent the players off before then rescinding it, were as powerless to do anything as the thousands of dumbfounded onlookers, as both teams deliberately attempted to lose the match in order to avoid playing the other Chinese pairing in the knockout stages of the competition, who suffered a shock earlier in the competition.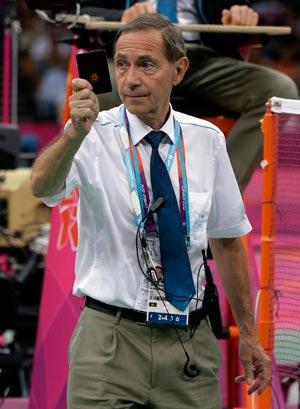 For the record, Korea 'won' 2-0. Not because they were superior, but because they were more embarrassed about the fiasco than their opponents who wildly and continuously hit the shuttlecock out.
China's Yu told Reuters, "Actually these opponents really were strong. This is the first time we've played them and tomorrow it's the knockout rounds, so we've already qualified and we wanted to have more energy for the knockout rounds."
This is simply not true. It is clear when professional athletes, especially the best in the world, are simply not trying.
Former Olympic silver medalist Gail Emms said "my two-and-a-half-year-​old could have won this match"
This sham then had a domino effect on another match as both teams tried to avoid the Chinese favourites. The pantomime crowd quickly caught on and began chanting "off, off, off".
This form is undoubtedly not in-tune with the Olympic spirit, but I wondered whether I blamed them or the organisers for the circus that ensued.
Emms later explained how this was not a huge surprise, "I knew this was going to happen, it's truly disgraceful"
Badminton changed the format from four years ago in Beijing from a straight knockout to these group stages. This was a decision by the Badminton World Federation to be more inclusive for nations that haven't got a strong history in the sport, but this has monumentally backfired.
This is supposed to be the greatest show on earth, sadly last night was more like a side show.
All of pairs have been disqualified by the International Olympic Committee for 'not using their best efforts to win a match'.
Their defense could be that ultimately they have a better chance of not only securing gold for them, but also, in China's case, another medal for their compatriots.
But this ignores the 12,500 fans that had paid money on tickets and travel to watch the match. They didn't pay to see a game that, quite frankly, was appalling and embarrassing in equal measure.
The Olympics is about the world's best athletes competing, pushing each other to a new level of excellence.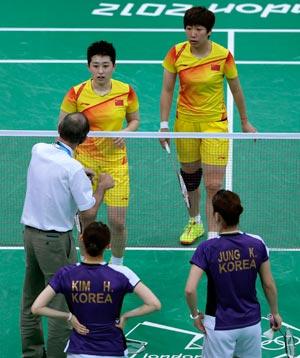 This should be the pinnacle of sport, seen only every four years, and sadly last night's events have shown badminton in a terrible light and has done nothing for the sport or the individuals involved.
If the draw does throw up an all Chinese semi-final then, sobeit, this is what the Olympics is all about.
Not that it is at all likely in the near future, but if there were two British pairs in the same position I would be highly surprised if the same thing occurred. It's just not in the British nature to deliberately lose. What we lack in raw talent in certain sports we make up for in dogged effort.
Similarly, British crowds love a plucky underdog, or a determined trier and would not stand for it.
The badminton governing body must revert to the previous format for Rio in four years' time to avoid similar scenes.
This is supposed to be the greatest show on earth, sadly last night was more like a side show.
The only fitting punishment was disqualification from the Games – they don't deserve to part of London 2012.
Let us know what you think in the comments below or tweet @msnsportrob

Are you sure you want to delete this comment?