British football can learn from other Olympic sports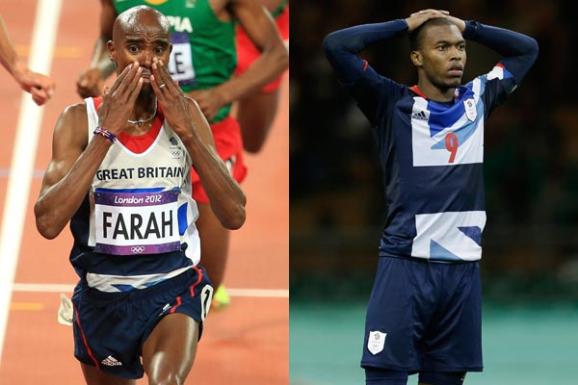 You may be forgiven for not realising that Team GB's men's football team went out of the Olympics on an all-too-familliar premature penalty shootout, thanks to success in the Olympic Stadium last night.
With Team GB picking up medal after medal at the Olympics, seemingly finding success a matter of course rather than a matter of over-achievement, is it not time for those outside football to take a central role in changing its culture and attitudes?
Nearly a decade ago British athletics was in the doldrums, with just one silver and two bronzes the entire medal haul from the 2003 World Championships in Paris.

Tough guy Charles Van Commenee eventually became national head coach and his uncompromising attitude towards his charges (he once called Kelly Sotherton a "wimp" after she won Olympic bronze) has banished the culture of failure in the sport and certainly played a part in Saturday night's glories.
Britain's footballers, by contrast, have failed at tournament after tournament, with England, incredibly, being the only one of the home nations to have qualified for a major tournament since 1998.

England are regularly lampooned for their lack of success, having not featured in any of the last twenty-three world or European finals. There certainly seems to be a culture of failure in the game at international level, with the 1990 World Cup and 1996 European Championship's semi-final appearances celebrated as achievements.
There is also the possibility that British footballers don't sacrifice enough to win.  When racing to mend a broken metatarsal in time for the 2006 World Cup Wayne Rooney was widely praised for sleeping in an oxygen tent to speed his recovery.
Contrast that with world triathlon champion Alastair Brownlee who sleeps in one most nights and Paula Radcliffe often used this equipment as a matter of course too. 
While nobody wants to see our top sportsmen struggling financially, the reward for mediocrity in football surely takes some of the drive to succeed out of our players
For them this level of commitment is the rule rather than the exception. It's all well and good running your heart out on the big night, but not preparing adequately in the years and months leading up to it is surely just as negligent as a half-hearted effort while performing.
It's been argued through the ages that money is the root of all evil. After three months of reasonable Premier League performances a young footballer usually agrees a contract that secures his entire future.

While nobody wants to see our top sportsmen struggling financially, the reward for mediocrity in football surely takes some of the drive to succeed out of our players. 

British number two tennis player Jamie Ward earns around fifty thousand a year, ask yourself what Britain's second best footballer earns.
Britain's youth development in football is considered poor even within the sport and a national centre for England will finally be opened in Burton this year.
There is a national sports centre in cycling, opened in 1994, and this has become a gold medal factory in Manchester. Hopefully Burton will help make up the shortfall in English footballing talent developed, because it is noticeable in all our national teams that we are very good at producing footballers who run around, but often lack even the most basic technique.
Football is funded through television money, sale of merchandising and tickets and it's about time it started giving value for money, because if it was funded by lottery money we wouldn't have any full-time footballers in this country any more. 

At the moment this nation is having a summer romance with an array of sports, but come the winter we're likely to get back to the home comforts of our domestic football season.

It's time football stopped taking us for granted and started pulling its weight
Are you sure you want to delete this comment?