Diary of a torch bearer
Kendal Barclay describes running with the Olympic Torch
Once they had told us all we needed to know it was time to get on the shuttle bus. At this point I was so excited and couldn't actually believe this was happening. It was just madness. 
As we were driving along dropping Torchbearers off at their points, we would drive past massive crowds of people all cheering, smiling and taking pictures. It was so nice to see so many people had come to support us. 
I was smiling and waving to everyone. I don't think I've ever smiled so much in my life. Suddenly my name and number (Torchbearer 60) was called out, it was my turn to run 300 metres with my own Olympic Torch. 
The bus stopped and as I stepped out there was just loads of people with their cameras and phones out taking pictures. It was overwhelming. Then I got interviewed and was just madness but good madness. 
I had people from Coca Cola coming up to me giving me and hug and I felt very thankful. Everyone began cheering as the torch was coming round the corner then my moment had arrived. 
I hugged, kissed and high fived the Torchbearer then I was told I could go and the atmosphere was just amazing. I was feeling so many different emotions at the same time it was incredible.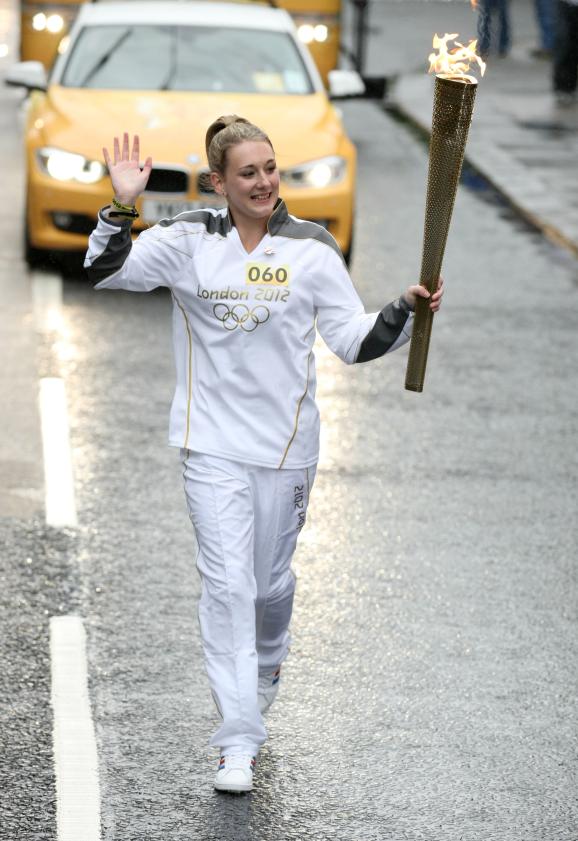 Then I passed the flame on to other Torchbearer and my 300 metres were finished but they were the best 300 metres of my life. 
I'm very very thankful that I got this opportunity and I will be telling my grandchildren one day.