Men's eight grab bronze
The men's eight added another medal to Team GB's total thirty minutes after the women's pair had secured the first home victory of the Games.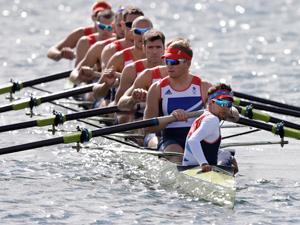 The team were battling with leaders and world champions Germany coming into the last 500m of the Eton Dorney race but were dramatically overhauled by Canada after appearing to tire.
Veteran Greg Searle, who came out of retirement for London 2012, said: "I thought this really could come true. We raced and we raced hard from the start and the crowd were amazing but we didn't have anything left and I guess they came back in the last bit."
Helen Glover and Heather Stanning earlier won Team GB's first gold medal with victory in the women's pair rowing.
The pair completed the 2,000m Eton Dorney course clear of Australia.
Are you sure you want to delete this comment?