Australian Sports minister will row Olympic course in GB colours after losing bet
Kate Lundy loses bet and must now row the Eton Dorney course in Team GB kit
Australian Sports Minister Kate Lundy will don a British rowing kit and take to the waters of Eton Dorney to row in front of a crowd of jeering Poms after losing a bet to her British counterpart Hugh Robertson.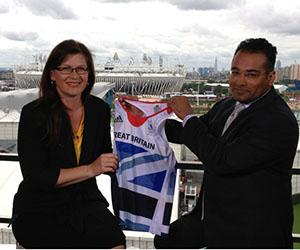 The pair had arranged forfeits for the country that finished lower in the Olympic medals table. With Team GB sitting proudly in 3rd and the Australians having one of their worst Games in recent history with only four gold medals, Canberra conceded defeat last night.
The bet was agreed during a meeting in Melbourne earlier this year, with humilation in the rival teams colours very much part of the deal.
Lundy must now row the entire Olympic course in Team GB kit, and she tweeted the photo of her new strip which was presented to her by Channel 4 news presenter Krishnan Guru-Murthy.
Had Team GB ranked behind the Australians, British Sports Minister Hugh Robertson would have had to dribble a hockey ball, wearing the gold and green of the Wallabies, around the perimeter of Australia House in central London.
Are you sure you want to delete this comment?