Twitter users rally around Tom Daley after abusive messages
British diver Tom Daley was the subject of abuse about his dead father after finishing fourth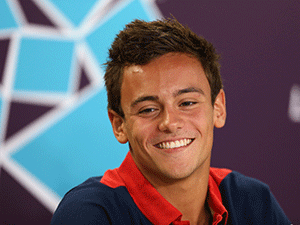 A single imperfect dive resulted in Tom Daley and Pete Waterfield dropping from first to fourth in the synchronised 10m diving this afternoon, but despite this fantastic effort, the 18-year-old was met with horrific abuse on Twitter.
A user caused infuriation around the world on the social website after sending Daley an abusive tweet, which claimed Tom had let down his late father.

Daley retweeted this, saying "After giving it my all... you get idiots sending me this..."

However, this wasn't the only thing @Rileyy_69 had to say. A series of obscene attacking tweets sent the diver's way have prompted fans of the diver on Twitter to jump to his defence, and #GetRileyy_69Banned began trending number one in the UK.
It wasn't just one abusive tweet directed at 18-year-old Daley:




The user in question, who's been labeled on Twitter as "pathetic" and "dirty scum", then made a u-turn, making several apologies to Daley after seeing the outrage he's caused.

Celebrities also joined the campaign against @Rileyy_69: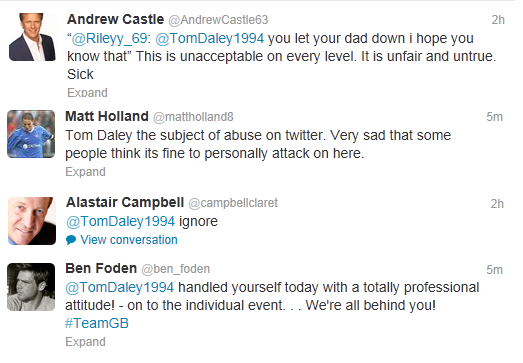 Are you sure you want to delete this comment?