Chad Le Clos beats Michael Phelps... and then Chelsea
South African swimmer races against his heroes
Chad Le Clos has had a week to remember.  First up, a dramatic triumph over Michael Phelps saw him take 200m Butterfly gold before he snatched a silver in the same stroke in the 100m.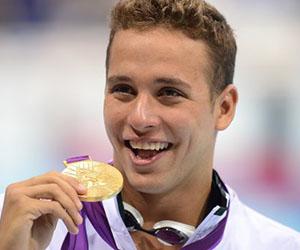 Now the South African swimmer has visited the home of his boyhood heroes Chelsea, where he was challenged to a race by some of their up and coming stars.

Up against a relay team consisting of Chelsea quartet Adam Phillip, Todd Kane, Sam Walker and Lucas Piazon, the South African eased to victory swimming almost the entirety of the 4 length race underwater whilst barely kicking whilst several of the Chelsea squad looked on the verge of drowning.

Speaking afterwards, he said: "I think my dad is going to be very jealous when he finds out I was here."
Bert le Clos gained international celebrity when he rejoiced over his son's victory in the BBC poolside studio

"My father has been my biggest fan my whole life, and he's always been like that, even watching me play soccer when I was a nine-year-old back in the day."

You can check out the video of Chad beating the Chelsea squad here


OMG  If you are young and are looking for someone who is financially and mentally secured, 
you are much more likely to find your match on
(A_g_e_l_e_s_s_m_i_n​​​​_g_l_e
_COM) 
 Many couples with age gap work out fine and get alone splendidly. 
it is a focused community for older men dating younger women. If you are ready for a new adventure, give them a try!
------.he'll be representing GB before you know it..Well, he does have an Afrikaans accent doesn't he?. In which case, he's got a brilliant chance (Is it), so watch out for him in a lido near you.
P.S. Credit where it's due.....
Congratulations on your victory over Michael Phelps...Now the precendent has been set.....I'm looking forward to cheering you on, as you surpass Mr Phelp's record number of Olympic medal wins....not to mention his other achievements ......
One down...twenty-odd more to go....
...and then when he's dried himself off, after single-handedly 'drowning' Chelsea F.C., pop him on a bike next to Messrs Wiggins and Hoy, for a little race round Hyde Park,then let him have a jog around a track with Mo Farah....
Still winning Mr Le Close?....great stuff.........
...and then after a couple of well earned strips of biltong, shared with his chummies Kevin Pietersen, Zola Budd and Tony Grieg( unless they've returned to their respective homelands) he might just be up for a touch of 'multi-tasking with Jessica Ennis....
..and the point being.....Of course, he'll 'shine' in his specialist field.....
Are you sure you want to delete this comment?