Dutch judo medallist punches man who threw bottle onto 100m track
A Dutch medal-winning judoka punched a drunken spectator who threw a bottle onto the track moments before the men's 100m final.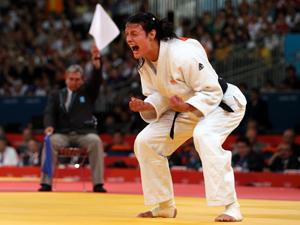 In an incident that threatened to marr the biggest event of London 2012, a bottle landed in the area behind the athletes just fractions of a second before the starting gun.
A man has been arrested.
Dutch judo bronze medallist Edith Bosch tweeted that she had been sitting nearby and had 'beaten' the "drunken" culprit.
Bosch, competing in the 70kg category in her fourth Games, added that she had missed the race as a result.
She reportedly told Dutch TV that the man had shouted "USA" and "Bolt bad".
The sound of the bottle landing was clearly audible on television footage after the starter had told the runners to "set". A security guard could be seen getting up to approach the offender.
For the first time at the Olympics, any athlete false starting is ejected from the race just as Usain Bolt was at the World Championships last year.
Another witness, @RanmerWelshCobs, tweeted: "Man in front of me threw bottle onto track just at start! Had to be wrestled off..."
Are you sure you want to delete this comment?