Bradley Wiggins celebrates in style
After becoming Britain's most decorated Olympian just days after his ground-breaking Tour de France victory, Bradley Wiggins certainly had something to celebrate.
And after months of monastic living as he carefully controlled his calorie intake to give himself just enough fuel to power his racing, Wiggins was not shy about hitting the tiles.
Around 2am he posted "Well what a day, blind drunk at the minute and overwhelmed with all the messages, Thank You everyone it's been emotional X"
Following his race yesterday, which he won by more than half a minute after declaring it would be a "piece of piss", Wiggins said he would consider returning to the track for the Rio Games in four years.
However, that will depend on his wife Catherine, who has been a staunch supporter of her husband, defending him from criticism that he was taking advantage of his team-mates during the tour.
"I could envisage, depending on what my wife thinks, going back to the track in the team pursuit where it all started and trying to win a fifth [gold]. But that's a long way off," he said
As well as spending more time with his family, Wiggins, the world's most famous mod sportsman will look forward to a bit of chill-out time with his favourite music: Paul Weller.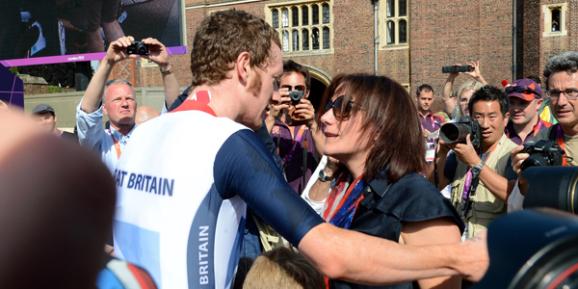 Are you sure you want to delete this comment?