An alternative medals table
How would the Olympics medal table look with a few extra, unofficial categories? 
Here's the top 20, correct as of 2pm on day 11 of the Games: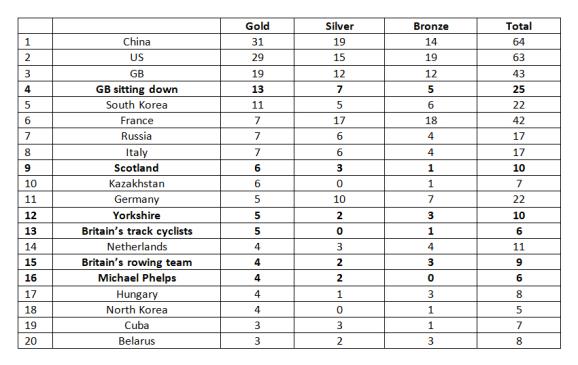 Congratulations to that portion of the British team who won their medals sitting down. You're currently in fourth place ahead of South Korea and France. 
Scotland is ahead of Yorkshire in the battle of the nations and regions, while Michael Phelps is the most successful individual at the Games so far.
Further down the chart we find cyclist Jason Kenny, winner of two golds, sandwiched in 34th place between Ethopia and Canada; and Andy Murray, winner of one gold and one silver, in 40th position between Slovenia and Georgia;
Meanwhile the Brownlee family, who picked up gold and bronze in the triathlon, are 44th between Switzerland and Lithuania.